Hezbollah claims that Saudi Arabia is obstructing Lebanon's presidential vote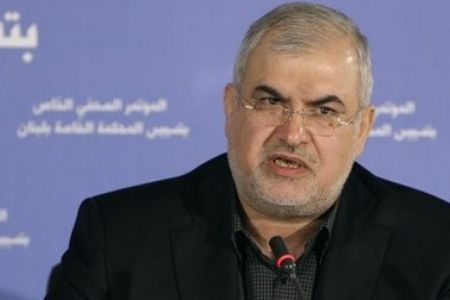 Hezbollah's parliamentary bloc chief MP Mohammed Raad on Friday claimed that Saudi Arabia is "obstructing the presidential vote" in Lebanon and of being involved in the deadly bomb attacks that rocked several Lebanese regions in recent years.
"Some are criticizing us for raising the voice in the face of the Saudi regime, which has not left any door open for reconciliation, after it obstructed the presidential vote in our country through vetoing the choice of the Lebanese," Raad added, reiterating the Hezbollah allegation that Riyadh had vetoed the election of Change and Reform bloc chief MP Michel Aoun as president.
But the Change and Reform bloc and Hezbollah are the 2 main blocs that have been boycotting the electoral sessions and preventing the achievement of a quorum , according to Lebanese media reports.
Raad also echoed Hezbollah chief Hassan Nasrallah's remarks that Saudi Arabia had played a role in the bombings that targeted Lebanese regions in recent years.
He said those who staged the bomb attacks "received phone calls from numbers in the Saudi kingdom."
"This regime has also sent car bombs and explosive devices to target civilians and pilgrims in Iraq through its army of takfiri terrorists," Raad charged.
"They have also destroyed and weakened Syria and divided its people … We are not launching false accusations against anyone and we are not attacking anyone, but it is our right to tell the truth to people," the Hezbollah MP added.
His remarks come away after Hezbollah failed to convince the Lebanese government to condemn the Gulf and Arab stance, which labeled the Iranian-backed Hezbollah a terrorist organization.
The Saudi-led bloc of six Gulf Arab nations formally branded Hezbollah a terrorist organization on Wednesday, ramping up pressure on the Lebanese militant group fighting on the side of President Bashar Assad in Syria.
The move by the Gulf Cooperation Council came less than two weeks after Saudi Arabia announced it was cutting $4 billion in aid to Lebanese army and security forces. The kingdom and other Gulf States followed up that move by urging their citizens to leave Lebanon, dealing a blow to the tiny nation's tourism industry.
The GCC announcement came a few hours after a televised speech by Hezbollah's Nasrallah in which he harshly criticized Saudi Arabia for punitive measures that targeted Lebanon recently, including the halt in aid and Gulf travel warnings.
Wednesday's move against Hezbollah reflects deeper regional divisions between Sunni-ruled Saudi Arabia and Shiite powerhouse Iran, Hezbollah's patron. Saudi Arabia cut diplomatic relations with Iran earlier this year after protesters angry over the kingdom's execution of Shiite cleric Nimr al-Nimr set fire to the Saudi Embassy and another diplomatic mission inside Iran.
A statement from GCC Secretary-General Abdullatif al-Zayani said the bloc decided to implement the terrorist designation because of hostile acts by Hezbollah within its member states. It said the designation applies to the militant group as well as all its leaders, factions and affiliates.
Al-Zayani accused Hezbollah of charges including seeking to recruit members within the GCC to carry out terrorist acts, smuggling weapons and explosives, and incitement to sow disorder and violence.
Presidential election:
The Lebanese parliament failed again Wednesday and for the 36th time in a row to elect a president to replace Michel Suleiman whose term ended on May 25 , 2014.
As in the past 35 sessions the parliament was unable to reach a quorum because the Iranian-backed Hezbollah militant group and its ally MP Michel Aoun's Change and Reform bloc MPs boycotted the session, because they could not guarantee Aoun's election as a president.
72 lawmakers, including former PM and Future Movement chief MP Saad Hariri participated in the session, but 86 MPs are needed for quorum to be met at parliament for the election of a president.
The 2 main candidates , Aoun and Marada Movement chief Suleiman Franjieh failed to attend the session.
Both Aoun and Franjieh are from the Hezbollah-led M8 camp .
Iran has been blamed by the rival March 14 camp of obstructing the presidential vote .
During an interview with CNN on Thursday Hariri was quoted as saying :
"Today we do not have a president because part of the parliament, which is Hezbollah, is not going down to the parliament. We have a problem with the quorum. Iran had elections a few days ago, so why can't we have elections, like normal people? Why can't we go to the parliament? Why are they stopping Hezbollah from letting members of Parliament elect a president?"