Kosovo lawmakers release tear gas, disrupt presidential vote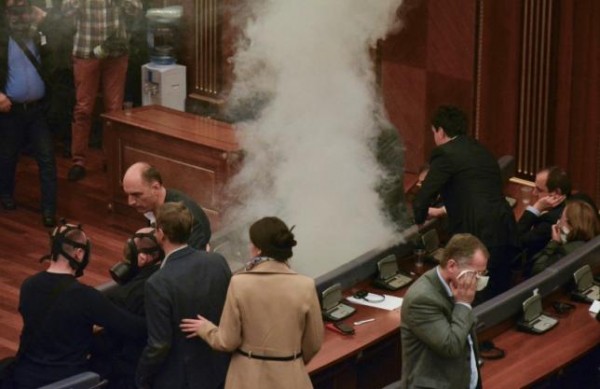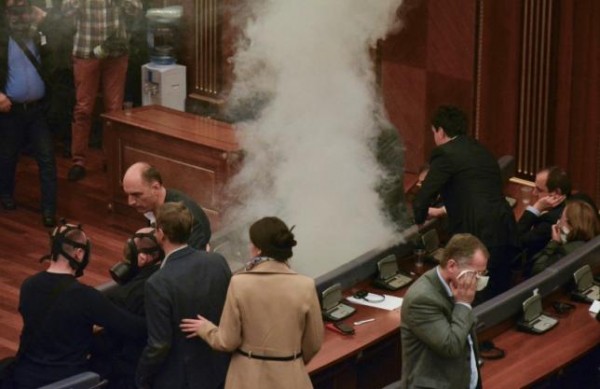 Opposition lawmakers released tear gas in Kosovo's parliament again on Friday, disrupting a session to elect the country's next president as part of a long-running protest against a deal to grant the minority ethnic Serbs more rights.
Opposition parties asked for suspension of the vote to elevate Foreign Minister Hashim Thaci to the presidency, protesting that he helped broker an agreement with Serbia on more local autonomy for Kosovo Serbs.
Kosovo declared independence from Serbia in 2008, almost a decade after NATO air strikes drove out Serbian security forces accused of killing and expelling ethnic Albanian civilians during a counter-insurgency war.
Many Kosovo Albanians believe last year's accord with Serbia could erode that hard-won sovereignty, though its status is unclear after a Kosovo constitutional court ruling in December that parts of it breach the country's laws.
Four hours into Friday's session led by Thaci's Democratic Party of Kosovo (PDK), three tear gas canisters were thrown by opposition lawmakers, prompting the chamber's speaker, Kadri Veseli, to eject 11 MPs.
Police in full riot gear backed by armored vehicles and water cannons stood guard outside parliament and government building, monitoring thousands of opposition supporters who pitched tents in protest at the presidential vote.
Protesters shouted, "Hashim, Hashim we want you in jail!" and "Hashim, the traitor!"
Parliament speaker Kadri Veseli warned a failure to elect the president would force a dissolution of parliament and snap elections within 45 days, two years ahead of schedule.
Opposition parties have been protesting for four months against the EU-brokered deal with Serbia and have staged street protests, repeatedly loosed tear gas in parliament, clashed with police and last month set a government building on fire.
REUTERS