Hariri says Franjieh is his candidate, denies he is seeking PM post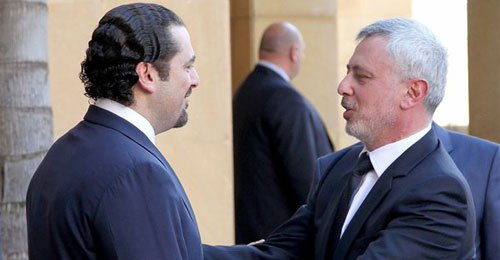 Former prime minister and Future Movement leader Saad al-Hariri officially declared Wednesday that Marada Movement chief MP Suleiman Franjieh is his presidential candidate while denying that he is seeking the prime minister post for himself.
"We stressed to Speaker Nabih Berri that we must stage the presidential election in a democratic manner," said Hariri after talks with the speaker in Ain al-Tineh.
"Today there are three candidates and we must all head to parliament to practice this democratic right and reach the election of a president," he added, referring to Franjieh, Free Patriotic Movement founder MP Michel Aoun and Democratic Gathering MP Henri Helou.
Asked why doesn't "respect the will of the Christian majority" in light of the latest presidential agreement between the FPM and the Lebanese Forces, Hariri stressed that Franjieh is "one of the four" Christian leaders who met in Bkirki and agreed that "anyone of them enjoys the Christian cover" to become president.
"Each one of us is free to choose whomever they want and this is a political issue and a national issue that has to do with the entire political structure in Lebanon," he added.
Hariri also stressed that the Lebanese have the ability to elect a president without any foreign interference, noting that the boycott of electoral sessions is not a "constitutional right."
Denying that he is seeking to head the next government,Hariri emphasized that it is up to parliament to choose the country's new prime minister through consultations with the president .
"Let no one accuse me" of delaying the presidential polls and "I'm exerting all efforts possible for the election of a new president," Hariri added.
"I have made an initiative to put the issue of the presidency on the right track," he said, referring to his nomination of Franjieh.
Franjieh Meets Hariri
Franjieh paid a visit on Wednesday to the Center House where he held talks with MP Saad Hariri to thank him for his ongoing support for his run for the presidency and to condole him on the eleventh anniversary of his father and former Premier Rafik Hariri's assassination.
He told reporters after the meeting: "I will remain a presidential candidate as long as some blocs support me."
"I will not withdraw from the presidential race and let down Hariri, who nominated me," he said.
Franjieh's run for the presidency has created tensions with Aoun.
"The FPM and Aoun are my allies. Our ties with the movement are not perfect, but we are still allies," stressed Franjieh.
"Aoun may see our nomination as a competition, but we do not see it that way," he continued.
"I have no problem with anyone nominating Aoun for the presidency," he added.
"I have chances to reach the presidency as much as anyone else," Franjieh declared.
He stressed however: "I never take any step without coordinating with my allies."
Asked to comment on Franjieh's remarks Hariri said " Franjieh's words are " gold".
The the 36th election sessions is scheduled for March 2, but Franjieh reportedly told Hariri he will not go to the parliament if Hezbollah decided to boycott the session.