Hezbollah security official leaked Hariri-Franjieh meeting: Fatfat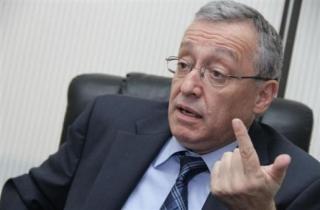 MP Ahmad Fatfat, a key member of the Future Movement hit back at Hezbollah chief Sayyed Hassan Nasrallah who accused on Friday the March 14 alliance media of leaking a November meeting between former Prime Minister Saad Hariri and Marada Movement chief MP Sleiman Franjieh.
"Everyone knows that [Hezbollah security official] Wafiq Safa was the one who leaked the meeting [to the media]," Fatfat told Al-Jadeed TV , underlining that Future Movement officials were not about the meeting.
Fatfat accused Safa of trying to topple the Hariri-Franjieh talks and create a fuss "in an attempt to (further) impede the presidential elections."
Fatfat's remarks come after Nasrallah criticized the manner in which the Future leader announced his support for Frangieh's presidential bid.
"It was wrong… [It] blocked the way for any serious dialogue" between different sides on the issue, Nasrallah said in a a televised speech, which made clear Hezbollah's stance over the nomination of the founder of the Free Patriotic Movement MP Michel Aoun by the Lebanese Forces.
The meeting between Hariri and Franjieh took place in Paris last November . It remained speculative as officials from both sides denied such a meeting had ever taken place, until Franjieh confirmed it during a televised interview in December, when he officially announced his nomination.
Fat fat also blamed Safa for "leaking inaccurate statements about a deal (between Hariri and Franjieh) regarding linking the presidency with the premiership."
"The rumors were circulated by Hezbollah media," Fatfat said.
Nasrallah reiterated his support for Aoun's candidacy Friday, questioning the sincerity of Hariri's initiative to back Franjieh .
"Hariri's position from Franjieh's nomination hasn't changed since he gave him his word," Fatfat said, addressing Nasrallah's claims and calling on rival parties to head to the Parliament to elect a head of state.
February 14
Hariri will officially announce the nomination of Franjieh for the presidential post during the February 14 commemoration ceremony expected to be held at BIEL, Ad-Diyar daily reported on Sunday.
The daily added that Franjieh still adheres to his nomination and will not withdraw from the presidential race.
Lebanese Forces chief Samir Geagea who was the candidate of March 14 was upset about Hariri's initiative and endorsed instead the nomination of Aoun his long time rival
February 14 marks the commemoration of the assassination of Saad's dad former PM Rafik Hariri who was killed in a massive bombing in Beirut on February 14, 2005 .
5 Hezbollah operatives were indicted in Hariri's assassination and are being tried in absentia by the Special Tribunal for Lebanon. Hezbollah refused to hand over the 5 suspects to the UN backed court
Feb 8 session
The 35th parliament session has been scheduled for February 8 to elect a successor to former President Michel Suleiman whose term ended in May 2014, but according to Nasrallah neither Hezbollah MPs nor Aoun's MPs will participate in the parliament session since it cannot guarantee to get Aoun to the Baabda presidential palace .
Several analysts are of the opinion that Geagea's endorsement of Aoun's candidacy and Hariri's endorsement of Marada Movement Suleiman Franjieh's candidacy unmasked Hezbollah's real intentions ; 'Neither Iran nor Hezbollah want a president for Lebanon at this stage '