A young American Muslim in Kansas tries to claim her place in her country
It takes two hands, a safety pin and two straight pins to turn a scarf into a hijab. Three pins if the wind is blowing across the Great Plains. Maira Salim stands at her dresser mirror with a pin in her mouth and a bedroom full of scarves. Her long brown hair disappears and then her neck. Maira leans in for inspection, making sure not a wisp of hair is showing.
Different scarves go with different outfits. She likes a black scarf with her red Converse sneakers. Her emerald scarf is nice with the satin dress she wears on holidays, tottering on gold heels as she walks across the asphalt parking lot of her Wichita mosque. The camouflage scarf makes her mother cringe — "You look like a boy!" — but Maira thinks it's perfect with her mirrored sunglasses.
Without a hijab, she would be a college senior who lives in a subdivision with her parents, two younger sisters and grandfather. She'd be the annoyed oldest daughter who has to pick up her little sister from swimming. She'd be the 21-year-old who works at her father's used-car lot haggling over Dodge Chargers by a chain-link fence. She would be a business major who binge-watches "Quantico" instead of doing her take-home exam.
With the hijab, her country sees a Muslim in a headscarf. Grabbing her purse and keys, Maira — pronounced MY-ra — leaves her house already knowing the questions that are waiting.
"Do they make you sleep in it?"
"Is it allowed to touch the ground?"
"Can you hear me in that?"
"Does it come from overseas?"
Over and over she gives the same answers, trying to be polite and informative when sometimes she wants to say, "Really? Are you serious?" The lack of even the most basic knowledge about Muslims depresses Maira; it became terrifying in a year in which America's television was stuck on the ISIS channel. One day she was at a traffic light when a woman rolled down her window and screamed, "Go back to your own country." Nothing like that had ever happened before. The woman drove on while Maira sat there, scared and then angry, wishing she had yelled back that she was in her own country.
She started wearing a button that said, "I'm Muslim, Ask Me a Question." But no matter how many times she said she hated Islamic State and everything it stood for, people were never satisfied. With each new terrorist attack, the mood worsened. After jihadists killed 130 in Paris, a Sedgwick County commissioner in Wichita said in a public meeting that he'd been politically correct long enough and proceeded to show slides of criminals with the name Muhammed. Then Republican presidential candidate Donald Trump called for a temporary ban on Muslims entering the United States, with 25 percent of the country in agreement.
All the while, there was Maira in her bedroom with a hundred headscarves in a town in the Midwest where she has lived since she was 2, taking family vacations to Branson and roasting halal marshmallows in her back yard.
America's vigil on the borders looks right past a generation of young Muslim Americans who are here now. By 2050, Muslims will constitute the second-largest religious group in the country after Christians, according to the Pew Research Center. Determining that transformation is Maira's age group, the fastest-growing segment of the U.S. Muslim population, enduring the worst spasm of Islamophobia in their lifetime as they decide their relationship with America.
The other relationship they're trying to figure out is the one with Islam. Maintaining religious values isn't easy in a country where the cultural norm is the magazine rack at Walmart shouting, "I Demand an Orgasm Every Time," next to the Almond Joys. No one in the checkout line bats an eyelash. Not the grandmother with her grandchild. Not the man in a Home Depot shirt. They're staring at Maira in her hijab.
Maira always notices the stares, but she no longer notices the magazines. She has been in the United States for 19 years, since moving with her family from Pakistan. "I grew up with it," she says.
Her imam warns of becoming too assimilated. Her mother preaches the same message. "Don't go the easy way," she tells Maira. Meanwhile, her dad would prefer his daughter not wear a hijab. "Go big, this is America!" he says, urging her on in the land of opportunity. Maira would like to go her own way.
One night the text goes out: 7 o'clock at Kababs. The restaurant is in a strip plaza, mostly empty until three cars zoom into the parking lot. "Group photo!" someone yells, and Maira lifts her camera in the air. "Get closer, you guys," she says. They all squeeze into the frame, lipstick smiles and burgundy pumps and five hijabs.
"Oh, my God, I am cheesing hard-core."
"I already have the caption!"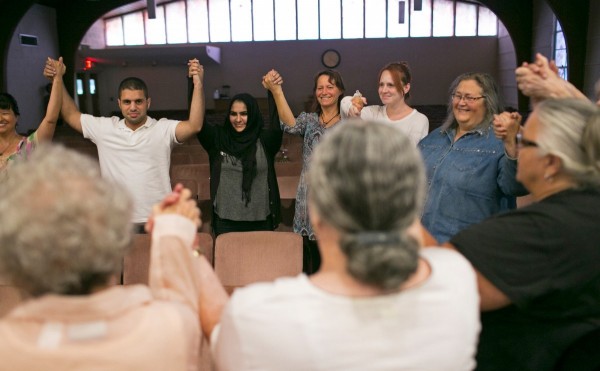 Maira has had the same friends since they were girls in Islamic school. The Wichita of their childhood has grown from a few thousand Muslims to a community of around 9,000, starting in the 1980s, when Boeing, Cessna and other aviation companies headquartered in the city needed skilled engineers. Now the local Costco stocks halal lamb, and their once-small mosque is an eight-acre complex with a minaret as tall as the grain elevators. Although Kansas was one of the first states to pass an anti-sharia law, Maira and her friends thought of Wichita as peaceful until the hostilities of the past year. Besides the incident at the traffic light, another friend was bashed with a shopping cart in a store and called a "sand n—–."
Their parents worry about their safety. But the girls who met in fifth grade are nearly finished with college, and where they fit into the modern Muslim landscape is the search that propels their lives. As observant Muslims, they are supposed to abstain from alcohol, drugs and sexual intimacy of any kind before marriage. Other parts of the Koran are subject to their American millennial interpretation, such as a female's responsibility to not attract the male gaze.
"If a guy says, 'Why do you wear makeup?' I say, it's not up to you to judge me," says Rabya Ahmed, a first-year medical student at the University of Kansas School of Medicine. "Do your part, and lower your gaze."
At Kababs, Maira sits beside one friend who confesses her loneliness as "the Muslim" at the University of Kansas two hours away in Lawrence and another who vents about "problematic white boys" who express interest in having a submissive wife, saying, "I'm gonna marry a girl like you."
Maira listens to her friends, trying not to stress out over the fact that she's the only one at the table who doesn't have a plan for after graduation. She's also the president of the Muslim Students Association at Wichita State University, a job fraught with potential missteps. When Maira is alone, she asks God for strength, saying the words out loud. When that's not enough, she plays "Candy Crush" at 2:30 a.m.
"Maira, you need to sleep at some point!" says a friend at the table.
The truth is they are all stressed.
"If a Muslim kid needs therapy, the answer is, 'Oh, go pray,' " says Maha Madi, a psychology major at Wichita State. "The answer is always prayer. Or 'I don't want our dirty laundry aired.' I feel like our parents don't understand what mental health is. We're aware of therapy."
"My dad is one way, and my mom is another," Maira says. "I wore a 'Free Palestine' hoodie when we came back from Canada. My mom was like, 'Don't wear that, Maira.' My dad said, 'Let her wear it.' "
"Kudos to you, Dad," Maha says.
At home, Maira goes through her pictures and posts them, a practice that a conservative cleric from Indonesia condemned as haram, or forbidden. His scolding went viral, but it was no match for selfie-loving hijabis worldwide, who responded with outrage ("This is BS!") and kept right along exposing their beauty and Muslim pride. For Maira, the background doesn't matter; it's the foreground, and from Kababs, five smiling hijabis mug in front of the reflective glass coating of the strip-plaza storefront.
"Super Cheesin'," she tags a photo.
"Beauts," another writes.
"Invisible" would be the best way to describe Maira on a rare night she ventures beyond her Muslim crew for a party of white female college students. She's hired to draw henna, a skill she learned by studying the elaborate tattoo designs on Pinterest, and to make a few extra bucks she occasionally draws at bridal parties for Muslim and Hindu women. A friend of an acquaintance contacts her about a gig, and Maira accepts, thinking she's going to a party for Turkish women.
"They will have some nice Turkish sweets," her mom says, as Maira puts on her chic leopard scarf.
The apartment complex is a massive sprawl of older units. Maira climbs the stairs with her henna kit. When the door opens, she sees an empty pitcher of sangria on the coffee table and a gurgling hookah pipe. There's no sign of a Turkish bride or pastries, just several women in little black dresses. "Yay!" one says, seeing the henna artist.
They are grad students at Wichita State who plan to go out clubbing later with their henna tattoos. As Maira sets up on the table strewn with paper umbrellas, a bottle of Hpnotiq blue liqueur comes out. "No, thanks," Maira says politely. Someone asks if she studies at Wichita State. She explains she's majoring in entrepreneurship and that henna is just a hobby.
"So, in your country, do people pay you to do this?" a woman asks.
Maira tries again. "No, well, I came here when I was 2," she says in her flat Kansas speech, "and I just do this for fun."
"Do you plan to stay forever?"
"Um," Maira says, starting to draw the swirling patterns on a woman's hand.
"So, you guys have tattoos?" another guest asks.
"Actually, in our religion, we can't have tattoos," she answers patiently. Her phone rings. It's her mother checking up on her. Maira makes no mention of the sangria or the Hpnotiq, but she will later because her 10-year-old sister is with her, sent by her mother as an extra set of eyes and ears. Maira settles back down at the table.
The next woman sits down. "You're from Wichita?"
"Yeah," Maira says, "I've lived here most of my life."
The church sign in front of Maira's subdivision is flashing a message to love Jesus Christ. The road curves through the dark to a house on the corner where inside the kitchen Asima Salim is holding a serrano chili pepper in one hand and scissors in the other. It's dinnertime in Kansas, Pakistani-style. "We have to do it our way," says Maira's mother, snipping the fiery pepper into the casserole dish.
She worries that her oldest daughter is becoming too American. At least Maira wears a hijab, and occasionally she even wears an abaya, the sweeping tunic Muslim women use for modesty. But half the time, the abaya is balled up in Maira's car or she throws it on over her clothes when she doesn't have time to iron. Once she wore it over her pajamas and drove to Walmart.
Asima's main concern is that her daughter seems in no hurry to find a husband. She launched Maira's marriage preparation training when Maira was 9, believing that every woman should know how to cook. By high school, Maira could make a four-course meal. Now, she and her 19-year-old sister, Mehma, create elaborate dishes for their food blog called Hijabi Chefs, although posting magazine-quality photos of chocolate ganaches is not what her mother had in mind.
Asima tries to lead by example. She gets home from her job as a cardiac sonographer at a hospital, takes off her hijab and starts juggling pans to have a hot meal on the table when her husband gets home from work. While she snips chili peppers in her turquoise housedress, her daughters are downstairs watching "I Am Cait."
Maira comes up to help her mother with dinner. They move around the too-small kitchen with deep familiarity, Asima reaching for the salt and Maira bringing down the plates, always ceding the territory. Asima mentions that she would like a bigger house so that when Maira and her sisters are married, they can come stay with their husbands and children. Maira, wearing a Wichita State hoodie with her hair in a scrunchie, points out that her youngest sister is 10.
Her mother's questions are never-ending. What time is your meeting? Who will be there? Should you be wearing that? Is Rabya going with you?
Maira's natural parsimony with language shrinks to nothing. "Uh-huh," she says. "I'm not sure." "Okay."
The questions are never-ending because America is right outside the front door. "Here you have to be distinct," Asima says, checking the oven. "Here everybody wants to look good with the hairstyle. Of course you want to be gorgeous. It makes a big difference if you curl or blow-dry your hair. You look all pretty with your hair showing. With my hair covered, I look a little . . . sober."
When Maira sees pictures of her parents in their early days — they met in medical school in Karachi — she sees happiness. She sees romance. She also sees her mother's gorgeous brown hair. Asima didn't start wearing a hijab until she moved to the United States. The billboards with breasts, the alcohol, the pleasure-seeking; it all sent Asima into religious conservatism to show her daughters that God and family are most important. Now she's super-hijab Mom who belongs to a Koran study group at the mosque.
"If you have kids, you have to practice or your kids aren't gonna do it," she says. "They are going to go the easy way."
The sound of the garage door means Maira's dad is home. "I made some chicken, rice, tortillas and palak," Asima says, as he peeks under the lids of the pots she brings to the table. In Pakistan, Salim Sattar was a doctor running a hospital. In Wichita, he became Samm of Samm Motors Inc., a used-car business he started with five used cars. "One must adapt" is his motto. While Asima taught Maira to cook, he taught her how to run his business. "We are not living in Pakistan," he tells his wife. "This is America." One thing they agree on: Their oldest daughter needs to get serious about marriage.
Maira doesn't want to be rushed. She also doesn't need help from her parents or busybody matchmaking aunties at the mosque. She wants to find her own soulmate.
"You guys can chill out for another 10 years," she tells her parents.
On the afternoon of Sept. 11, bright fall sunshine bathes the rolling green campus of Wichita State. Maira walks alone, wearing a black hijab. It's the one day of the year when the scarf on her head feels more obvious, the fabric more scratchy against her skin. Maira got her first death stare that morning on her way to school when she stopped at Walgreens. Going back home to hide was not an option when you are the president of the Muslim Students Association (MSA).
Even though Maira is too young to remember many details about Sept. 11, 2001 — she was 7 — she's spent her life in its shadow. She ran for president of MSA to give the 1,200 Muslim students at Wichita State a stronger voice. Maira's shy demeanor and stage fright had to take a back seat to her larger ambitions. "It's time for us to tell our own story," she says.
She vaguely knew of MSA's controversial history. Started in the 1960s to give international students a place to worship on U.S. campuses, they were funded with Saudi money that encouraged an ultra-conservative strain of Islam.
For Maira's generation, the old MSA — men only, Arabic only — has been replaced with coed poetry slams to raise money for Syrian refugees and her election as the Wichita State chapter's first female president.
But Sept. 11 is a confrontation with every stereotype they're trying to escape, and in the weeks leading up to it, Maira and her executive cabinet debated how to mark the day. They decided to schedule a Muslim Awareness Week to coincide with Sept. 11. They wanted to host a campus-wide panel on Sept. 11 to discuss how the lives of Muslim Americans have been affected since 2001 until the student vet organization learned of the plan. The vets voiced strong opposition to the university over any such panel.
"They think we should be honoring the victims," said Taben Azad, the MSA vice president. "That's fair."
"Why do we always have to focus on one side of the pain?" Maira said.
September arrived and Maira ran from one event to the next, traveling around with a paper bag of scarves for Hijab Day, geared for non-Muslim women to experience what it's like to wear a hijab. In the noisy student activities center, she sat at the MSA booth wearing her "I'm Muslim, Ask Me a Question" button.
Next to her was a booth for LGBT students. Maira has a gay Muslim friend and thought little of the rainbow flag beside the pocket-size Korans on her table. She also didn't pay attention to the six-foot cardboard woman in a string bikini in front of the booth for Twin Peaks, a breast-centric restaurant recruiting new waitresses. What she noticed were the three police officers hovering nearby. Between MSA and her calls to family in Pakistan, she wonders if her phone is being listened to.
Finally it's Sept. 11. An offer to co-host a panel discussion with the student veterans group was rejected, so the MSA has joined another event where they'll present two local first responders with plaques of appreciation. Maira's stomach tosses with nerves. Every big-screen TV in the student union carries images of President George W. Bush with a bullhorn on top of the smoking rubble at the World Trade Center. Over and over, the planes fly into the twin towers. Wearing her black hijab, Maira sits near one of the TVs with two other MSA members. They're making cards to give to the first responders. With their construction paper and markers, they search for the right words.
"They don't have to be sad, right?" one says.
They do a Google search for heartfelt appreciations, but every phrase sounds like an apology. One of the young women makes up a poem about ISIS that she wishes she could write on a card.
Roses are red
Violets are blue
You hate them
And we do, too.
Maira asks the group, "Can I write salaam aleikum?"
"In English," one answers.
"In Arabic, too," Maira says, writing it both ways. On the next card, she writes, "Thank you for your service," with a henna design. On the last card, she fills an entire page with her careful handwriting.
"A couple of months ago, my family and I were vacationing in Branson, Mo.," she begins. On the drive home, Maira was behind the wheel when a car in the oncoming lane of the highway drifted. The collision sent her family spinning a hundred yards down the interstate, and one of the rescue workers said it was a miracle anyone was alive. "At a moment when we felt so helpless, ya'll made us feel comfort. Thank you. Maira Salim, president of the Muslim Students Association."
When it's time for the ceremony, they gather their cards and plaques. The event in Hubbard Hall is called "Global Village Assembly: Enemies Within and Enemies Abroad (Domestic and International Terrorism.)" Maira and a group of MSA members walk across campus in the dusk, no one saying much. The door to the auditorium is closed, but they can hear "The Star-Spangled Banner."
They stand outside, not wanting to interrupt, and then open the door to the sight of a woman in the front row wearing a T-shirt that says, "Every second a life was lost." Up the stairs of the amphitheater they go, six women in hijabs and several dark-haired men finding their seats in the crowd of more than 200.
Flanked out in two rows, they listen to the readings, the drums and poems, including one by a blond student that spoofs Osama bin Laden's pornography watching. "Go to Twin Peaks or twin towers?" he says to laughter.
Maira listens quietly until she walks to the stage. She takes the microphone and then a deep breath. She knows every word will be evaluated. The woman in the T-shirt has her arms crossed. "This is not what I stand for," she says of what happened 14 Sept. 11's ago, wishing that after all these years people understood. She says she learned a long time ago that to survive, she could not let herself be defined by the fears of others. "You have to show people that there is good in the world," she says, holding the two plaques.
On behalf of the MSA at Wichita State, she thanks all first responders for putting their lives on the line. There's only one first responder onstage; the second is a no-show. She presents one of the plaques. "Thank you for acknowledging this day," the rescue worker says to her, shaking her hand. "Thank you for acknowledging a day that's near to my heart."
Maira gets through Sept. 11, thinking that the hardest moment is over. It hasn't even started.
A few weeks later, a Wichita State alumna discovers that the pews in the campus chapel have been removed. The MSA was one of the groups that had pushed for their removal, arguing that the benches weren't welcoming to all styles of worship. The president of the university agreed, but no one seemed to notice last spring when 22 oak pews that had been in the chapel since 1964 were unbolted and warehoused. In October, though, after the alumna learns of the empty chapel, outrage follows and the Muslim students are blamed. A Fox News editorial calls it "Christian cleansing," and soon Maira is reading on the Internet that some people in Wichita want her to burn in hell.
The next month is Paris. After that is San Bernardino. "Please don't let it be Muslims," she says both times.
In the December chill, Maira gets in a car and drives. She turns the radio up loud and closes all the windows. This was supposed to be her year of claiming what it means to be a Muslim American, and instead she is screaming in frustration. No words or phrases, just raw screams until eventually she drives home and goes downstairs to her bedroom with a hundred headscarves.
"Is whatever we're doing not even making a difference?" she wonders. "Is any of this even working?"
That night, she says her fifth prayer of the day and checks Snapchat. Her skinny jeans are near her prayer beads from Mecca. It's an uncertain end to an uncertain year, but the next morning Maira will stand at her dresser mirror, deciding between two pins or three.
THE WASHINGTON POST