Geagea: If Hezbollah is serious about the election, Aoun can be the president tomorrow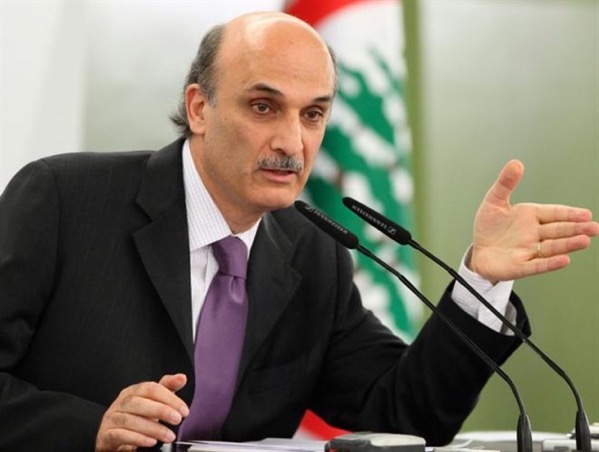 Lebanese Forces leader Samir Geagea told MTV during an interview on Wednesday in response to a question about his endorsement of former Free Patriotic Movement leader MP Michel Aoun," if Hezbollah is serious about electing a Lebanese president, Aoun can be the president tomorrow."
Geagea denied his nomination of Aoun was a revolt:
"What happened was not a "revolt" at all and it was prompted by the situation in the country, which has become unbearable, especially after the garbage crisis."
He did not hide his displeasure about the nomination by former Lebanese PM Saad Hariri of Marada Movement leader Suleiman Franjieh , but at the same time he denied that his endorsement of Aoun was a reaction to Franjieh's nomination:
"I was not pleased by the nomination of Franjieh but my nomination of Aoun was not a reaction to Hariri's move. We are fully confident of our step." He said.
Geagea tried to justify his endorsement of Aoun by stressing that the former General is not as committed to the March 8 alliance as Franjieh and that he can easily become a centrist :
"We chose Aoun for the presidency because Franjieh is a "genuine" member of March 8 while the General is only allied with them and has the ability to move to the center more than Franjieh."
Geagea added: "Aoun did not support Hezbollah's stance on (former minister Michel) Samaha's case and he is moving to the middle.
He also added: "Hariri was the first one who considered nominating Aoun months ago and the "ten points" prove that we are still in March 14."
The 10 points he is referring to are the basis of the agreement LF and FPM reached before declaring his support for Aoun's nomination .
In a response to a series of questions and follow ups about March 14 , and his future role in the alliance , he said:
We were in March 14, we will remain in March 14 and we will not leave March 14, because it reflects our political beliefs … I was jailed over these principles and I will not change them for anyone.
The martyrs fell for the same cause that I announced with Aoun's nomination and the issue is not about individuals but rather about the project. We are not changing our principles or betraying the martyrs' blood. The families of the martyrs understood the issue and the nomination.
March 14 has not ended and its project is still present .We insist on March 14's project and on our alliances more than ever.
Asked about remarks by Qatar's foreign minister that supported his decision to nominate Aoun, Geagea played down the statement, describing it as "a response to a question during an interview."
"We have been friends with the Qatari leadership since a long time and there is a personal relation with the Qatari foreign ministry and the Qatari stance was very normal," he said.
"My relation is strong with both Qatar and Saudi Arabia," he added, when asked whether the Qatari statement means that he has replaced Riyadh with Doha as his main regional ally.
Geagea also noted that Saudi Arabia will not take a stance on Aoun's nomination anytime soon "because it wants to stay aside and let things take their course."
The next session for parliament to elect a president is on February 8. But it is not yet clear whether Lebanon will have a head of state on that date .
According to observers the biggest  question on the mind of the Lebanese : "Will Hezbollah show up this time at the parliament to vote for its candidate  Michel Aoun"
If not then Geagea may have called Hezbollah's bluff, the observers are saying .
These  observers believe that Hezbollah never really seriously considered Aoun for the presidency but has been using him to obstruct the election .