Lebanon denies rumors about a foiled plot to bomb a European plane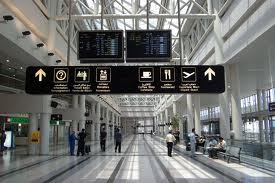 The Interior Ministry late Saturday denied  rumors that there had been an attempt   to bomb at Beirut airport  an Air France passenger jet.
The spreading of such rumors "is an attempt to disrupt work at the Beirut airport," a ministry statement said, dismissing such claims as "fabrications and lies not based on any reality."
The rumors of a foiled plot against an Air France jet were followed by an LBCI report Saturday evening that said a foreign security agency had warned Beirut of a possible attack against a European carrier.
But the Interior Ministry appeared intent on quashing speculation of security lapses at Beirut's international airport, days after Interior Minister Nouhad Mashnouk was quoted as saying that Air France and British Airways may end services to and from Lebanon over safety concerns.
In Saturday's statement, the ministry said that two committees of professional aviation experts from Britain and France had visited the Beirut airport at an unspecified date and said security conformed with international standards.
However, they proposed that more security forces be present at the airport, and said coordination between different departments was lacking, according to the statement.
It added that Mashnouk met with Prime Minister Tammam Salam, Parliament Speaker Nabih Berri and Transport Minister Ghazi Zeaiter over the experts' report.
Zeaiter earlier Saturday also denied that there were any specific security threats at the airport, or that it had been blacklisted by any country or airline.
"Lebanon has advanced greatly in safety measures for civil aviation. It needs to be better equipped, but we can't deny the management's advancements," Zeaiter said in a news conference.
Former minister Wiam Wahab reportedly was  behind the rumor  that the Islamic state was going to bomb an Air France passenger plane  but the plot was foiled.
In a twitt he revealed that the bombing was to take place on January 8th   and that the operation was going to be similar to the bombing of the Russian plane over Egypt .
According to the report the US intelligence found out about the plot and notified the Lebanese authorities and France