Mashnouq: Hariri has not given up on Franjieh's nomination for presidency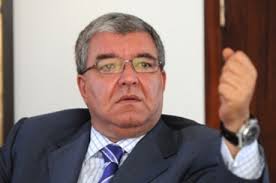 Interior Minister Nouhad al-Mashnouq reiterated Friday that Former PM and Future movement leader PM Saad Hariri has not given up on his nomination of Marada Movement chief MP Suleiman Franjieh for the country's presidency.
"Communication over the presidential issue is still ongoing," Mashnouq said after a visit to Greek Orthodox Metropolitan of Beirut Elias Audi.
"He is still holding onto the nomination of MP Suleiman Franjieh but this nomination is aimed at reaching an understanding with others, not confronting them," he added.
Asked whether Hariri's initiative has run out of steam, Mashnouq said such a hypothesis is "premature and inaccurate," while admitting that "the regional developments have delayed the elections."
"Let us wait and see. I'm not pessimistic over this issue and I believe that the storm we're facing will soon calm down, allowing the debate to return to normal," the minister added.
Commenting on the security situation he reassured that it is very good and under control
In remarks to al-Akhbar newspaper published Friday, Mashnouq had stressed that the security agencies have the security situation in Lebanon "under control."
He told the daily: "The security situation is very good."
"The agencies are performing their duties to the utmost," he stressed in wake of the regional tensions between Saudi Arabia and Iran.
"It is natural for the regional circumstances to affect the security situation," remarked Mashnouq.
The Lebanese parliament failed again yesterday and for the 34th time in a row to elect a president to replace Michel Suleiman whose term ended on May 25 , 2014.
As in the past sessions the parliament was unable to reach a quorum because the Iranian-backed Hezbollah militant group and its ally MP Michel Aoun's Change and Reform bloc MPs boycotted the session.
Franjieh emerged recently as a potential presidential candidate after visiting Hariri in Paris . But Aoun reportedly rejected his candidacy and Hezbollah went along with Aoun and declared that the FPM leader is its sole candidate . This is despite the fact that Franjieh is a key member of the Hezbollah -led March 8 alliance and the closest to Syrian president Bashar al Assad.
The other Christian leaders Lebanese Forces chief Samir Geagea and former president Amin Gemayel , both of march 14 alliance also rejected Franjieh's nomination for different reason