Charlie Hebdo cover targets fanatics in attacks anniversary issue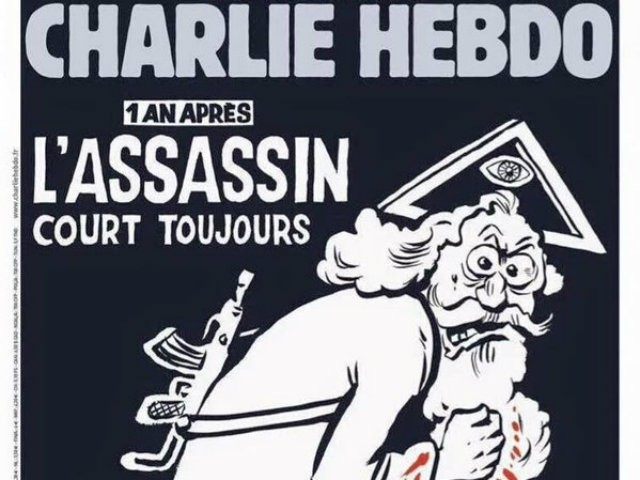 French Satirical weekly Charlie Hebdo is preparing one million copies of a special edition to mark the anniversary of the deadly Islamist attack on its offices with a cover featuring a bearded man with a gun, representing God.
"One year on, the killer is still on the run", reads the front page splash.
Charlie Hebdo, known for satirical covers lampooning Islam and other religions as well as politicians, lost many of its top editorial staff in the January 7 attacks when Islamist militants opened fire on journalists inside the newsroom.
The attack was claimed by al Qaeda's branch in the Arabian Peninsula, known as AQAP. It followed a 2011 firebombing of its offices that forced the publication to move premises. Staff at the magazine had been under police protection since it published cartoons of the Prophet Mohammed in 2006.
A month before the attack, Charlie Hebdo was close to shutting down as sales had dipped below 30,000. Its brand of provocative, no-holds-barred humour appeared to have gone out of fashion.
Cartoonist Laurent Sourisseau, who took over the management of the weekly in the aftermath of the attack, also penned an angry editorial in defence of secularism. It denounces "fanatics brutalised by the Koran" as well as those from other religions who hoped for the death of the magazine for "daring to laugh at the religious".
The three gunmen were themselves shot dead by security police during three days of violence which ended with a hostage-taking at a Jewish deli in which four hostages were also killed.
The attacks prompted a worldwide solidarity movement, with the "Je Suis Charlie" slogan going viral on social media.
In the second deadlier string of attacks on November 13, Islamist militants mowed down people in Paris cafés and a concert hall and attacked a stadium in the nation's worst post-war atrocity.

With the country on high alert since then and right through the New Year's holiday season, soldiers will be out in force protecting official buildings and religious sites for the "Charlie" anniversary.
Commemorative plaques will be unveiled on Tuesday at the various sites of the January attacks, including at the weekly's former offices, in modest ceremonies attended by families and government officials, a City of Paris spokesman said.
On January 10, another more public ceremony will take place at the Place de la République, the square in eastern Paris which attracted mass rallies in favour of free speech and democratic values after the attacks and has become an informal memorial.
(FRANCE 24 with REUTERS)