In a blow to U.N. efforts evacuation of Damascus militants delayed after rebel leader killed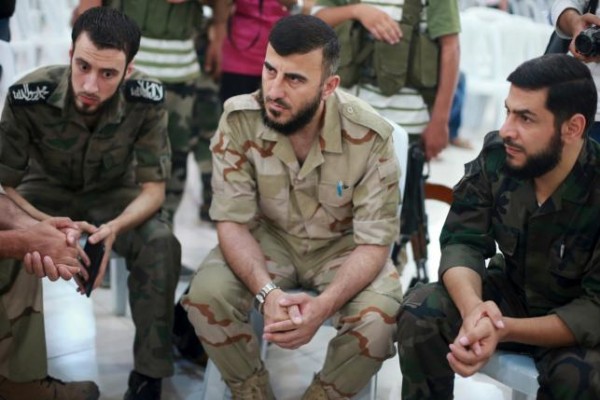 A U.N.-brokered deal to evacuate more than 2,000 Islamic State fighters and other militants from rebel-held suburbs of Damascus on Saturday has been delayed after the killing of an insurgent leader, an organization that monitors the Syrian war said.
The United Nations said it aimed to convene peace talks in Geneva on Jan. 25 to try to end nearly five years of civil war and it appealed to the warring parties not to allow events on the ground to derail the process.
The evacuation from Damascus had been expected to take place early on Saturday but was delayed as there was now no secure territory for the militants to pass through, according to the Syrian Observatory for Human Rights, an independent British-based monitoring group that tracks violence across Syria.
Buses were due to transport the fighters to Raqqa, the de facto capital of Islamic State in northern Syria, Lebanese Hezbollah's Manar TV station said. But it fell through after the Jaysh al Islam rebel group's leader Zahran Alloush – through whose territory the convoy had been granted safe passage – was killed in an air strike on Friday, Manar said.
The arrangement was the first of its kind between Syrian authorities and Islamic State. It would have marked a significant success for the government of President Bashar al-Assad, increasing its chances of reasserting control over a strategic area 4 km (2.5 miles) south of the center of the capital.
It was unclear when, and if at all, the evacuation would take place. The delay deals a blow to U.N. efforts to end a years-long government siege of parts of the city controlled by a patchwork of rebel groups that has impeded the flow of food and humanitarian aid, starving many people to death.
The United Nations and foreign governments have stepped up efforts to broker local ceasefires and safe-passage agreements toward a wider goal of ending the civil war, in which more than 250,000 people have been killed.
The civil war was sparked by a Syrian government crackdown on a pro-democracy movement in early 2011. Islamic State militants have used the chaos to seize territory in Syria and Iraq. About 4.3 million Syrians have fled their country.
'BAGHDADI MESSAGE'
The U.N. Security Council on Dec. 18 unanimously approved a resolution endorsing an international road map for a Syrian peace process, a rare show of consensus among major powers.
U.N. Syria mediator Staffan de Mistura, announcing the planned date of the peace talks in Geneva next month, said in a statement on Saturday that he aimed to convene representatives of the Syrian government and "the broadest possible spectrum of the Syrian opposition and others".
"He counts on full cooperation of all the relevant Syrian parties in this process. Continuing developments on the ground should not be allowed to derail it," the statement said.
In a separate development that underlined the rapidly changing military situation, a U.S-backed alliance of Syrian Kurds and Arab rebel groups said it had captured a dam from Islamic State on Saturday, cutting a main supply route of the militants across the Euphrates.
Since the alliance was formed last October, its fighters have launched several major offensives against Islamic State with the ultimate goal of capturing Raqqa.
Spokesman Colonel Talal Selo said the seizure of the dam, with the backing of U.S. coalition planes, helped isolate the militants' strongholds in northern Aleppo from their territories east of the Euphrates river, where Raqqa is located.
The militant Sunni Islamist group has come under intensifying military pressure in recent weeks – but a new message purporting to come from its leader said air strikes by Russia and a U.S.-led coalition had failed to weaken it.
"Be confident that God will grant victory to those who worship him, and hear the good news that our state is doing well. The more intense the war against it, the purer it becomes and the tougher it gets," said the audio recording, described as being by Abu Bakr al-Baghdadi.
It slammed Saudi Arabia's efforts to set up a coalition of Muslim nations to fight his group. "If it was an Islamic coalition, it would have declared itself free from its Jewish and Crusader lords and made the killing the Jews and the liberation of Palestine its goal," the message said.
The authenticity of the message, posted on Saturday on Twitter accounts that have published Islamic State statements in the past, could not be verified. The last such online public message said to be by Baghdadi was posted in May, and he has been reported injured or killed several times in fighting.
REUTERS