Franjieh meets Hezbollah chief to seek his support for his presidential candidacy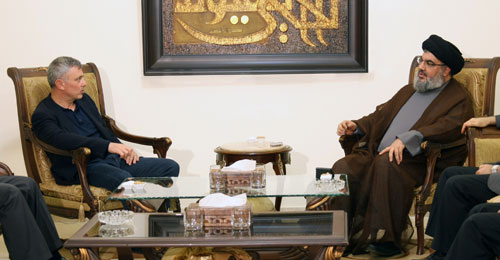 Marada Movement leader MP Suleiman Franjieh, visited Thursday, Hezbollah Secretary General  Hassan Nasrallah  and held a long meeting with him, in the presence of their aides .
Al Akhbar newspaper which is closely associated with Hezbollah  reported that  the talks covered  Franjieh's  meeting with  MP Michel Aoun and his discussions   with the March 14 alliance , particularly  former PM Saad Hariri and PSP chief MP  Walid Jumblatt. "
Franjieh reiterated his commitment to protect the integrity of the March 8 alliance , and  declared not to abandon support for Aoun as a candidate for the  Presidency." but  he asked : "For  how long will continue in this position? ".
Frangieh  told Nasrallah  "I see an opportunity for us and our team, through the adoption of  my candidacy by the the other team, which does not want  to vote for Aoun, so for how long we'll wait, and what is the time limit, and what's the plan?".
Franjieh  declared that  no political commitment was made  to the other team, and that accepting his nomination for the Presidency does not carry  any obligations on his part .
Nasrallah praised  Frangieh by telling him: "We never thought  of you like we think of others . You have our full   trust , you are a serious and reliable ally of ours  and we have absolutely no concerns  about   your stance, you are an ally and a partner, and we prefer you in many ways to  many others. but Nasrallah added
"We agreed to support the candidacy  of Aoun, on the other hand you only have a verbal offer    and Hariri has  not officially  announced your nomination and  there are differences between  him and his allies  on the matter. We do not want to find ourselves in a blackmail situation
Frnajieh left the meeting with the feeling that Hezbollah will not abandon its support for Aoun as long as the other team does not officially declare its intention to nominate him as their  presidential candidate .
In a related development Lebanese media reported that Hariri will be coming soon to Lebanon , will hold a meeting for his Future Movement bloc following which he will officially announce his support for the candidacy of the Marada chief.
Meanwhile Aoun reportedly is extremely concerned about Hariri's offer for Franjieh  and told his visitors :" If the offer succeeds  I might as well  pack up and  leave the country"