Patriarch Rai Says Franjieh's nomination may 'resolve presidential crisis'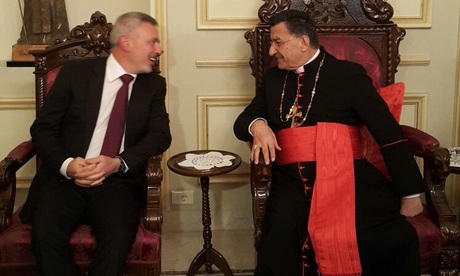 Lebanon's Christian Maronite Patriarch Beshara al-Rai held talks Thursday in Bkirki with Marada Movement leader MP Suleiman Franjieh and announced that the northern leader's presidential nomination might resolve the country's political crisis.
"We put the patriarch in the picture of the developments," said Franjieh after the talks.
Franjieh was accompanied by his son Tony to the meeting, which was also attended by al-Rai's aides Samir Mazloum and Hanna Alwan.
"It is my duty to reassure the other camp if they have concerns and as president, I would work on a law (for parliamentary elections) that would ensure national balance and real representation for all sects," he added.
Asked about any "obstacles" hindering his nomination, Franjieh said there are no hurdles but rather a new situation that needs to be clarified to all parties.
"Time can resolve all issues and hurrying things might be harmful," he said.
As for the controversy over his close ties to Syrian President Bashar Assad, Franjieh said his relation with Syria's leader should be considered "a point of strength, not a point of weakness."
"I'm not asking the other camp to endorse the stances of the March 8 coalition and the other camp cannot ask me to endorse March 14's stances, but what's important is to protect Lebanon," the Marada leader added.
The patriarch told Franjieh upon his arrival in Bkirki that the news about his nomination have "sparked joy among all Lebanese and reactivated the presidential issue."
"We reactivated the presidential issue because inaction is lethal," the Marada chief for his part told the patriarch , according to MTV.
Earlier in the day, the patriarch welcomed the presidential initiative that involves Franjieh's nomination to the country's top Christian post.
"We will contact all the relevant leaders in a bid to reach a solution to the presidential crisis," al-Rai said upon his arrival at Beirut's airport from a pastoral foreign trip.
"We salute the presidential initiative and we hope it will open the door for consultations, contemplation and consensus," al-Rai added.
"We tell the parties that the main concern must be the protection of the Lebanese republic and its state institutions," he said.
The patriarch underlined that any agreement requires cooperation among all parties.
"We thank God that there is a valuable and serious initiative and the door has been opened for all parties to engage in a responsible discussion and reach an appropriate solution," he added.
The patriarch also said that he will hold consultations with all Christian and Muslim parties in the country.
"The president is for all Lebanese, not only for Christians, and we want a president for entire Lebanon," al-Rai said.
Earlier on Thursday, Saudi Ambassador to Lebanon Ali Awadh Asiri called for "a constructive dialogue among the Christian forces" in the wake of Franjieh's nomination, hoping the results will be "fruitful and quick."
The Lebanese parliament failed again yesterday and for the 32nd time in a row to elect a president to replace Michel Suleiman whose term ended on May 25 last year.
As in the past sessions the parliament was unable to reach a quorum because the Iranian-backed Hezbollah militant group and its ally MP Michel Aoun's Change and Reform bloc MPs boycotted the session.
Speaker Nabih Berri a key ally of Hezbollah postponed the election to December 16 .
Franjieh emerged recently as a potential presidential candidate after visiting Former Lebanese PM and Future movement leader MP Saad Hariri  in Paris . But Aoun reportedly rejected his candidacy and Hezbollah went along with Aoun and declared that the FPM leader is its sole candidate . This, despite the fact that Franjieh is a key member of the Hezbollah -led March 8 alliance and the closest to Syrian president Bashar al Assad.
Franjieh visited PSP chief MP Walid Jumblatt at his residence in Clemanceau last night . Prior to their meeting he told reporters that Hairi is very serious about his candidacy and trusts everything Hariri told him.
"My nomination has not become official until the moment and I believe that Hariri is 100% honest in his support for me and that he was serious in everything he said," Franjieh said.
Franjieh stressed that his possible nomination will not affect the unity of the March 8 camp and that the camp will not head to the parliament to elect a president unless it is united. Franjieh added that he and Aoun have been together for a long time and will remain friends.