Worlds second largest diamond was discovered in Botswana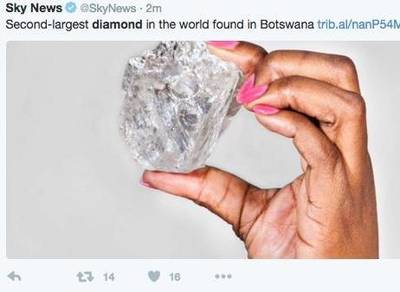 A Canadian mining company operating in Botswana says it has found the second largest "gem quality" diamond ever discovered.
The Lucara Diamond Corporation said in a statement this week that the stone measures 1,111 carats, making it the biggest find in more than a century.
The Royal Collection Trust, which oversees British royal treasures, says the largest diamond ever found was the 3,106-carat Cullinan diamond, unearthed in South Africa in 1905. That diamond was cut into smaller pieces that are part of the crown jewels.
Lucara, which is based in Vancouver, says it also found two other large white diamonds in the same mine, Karowe, in Botswana. Those diamonds measure 813 carats and 374 carats.
Botswana is a major diamond producer.
ASSOCIATED PRESS
This is to remind all our readers to respect the community . Comments that contain personal attacks or inappropriate language will be removed.
For those who are new to this site please note that Ya Libnan is all about fixing Lebanon.
We want our readers to come up with ideas that if implemented will make lebanon a better country.
Ya Libnan is a democratic venue that is open to anyone wishing to contribute any ideas to improve Lebanon. Our only wish is to maintain the civility of the discussions and that is why those who have not been able to abide by this rule have been banned from participating in this forum . We don't want or expect anything from anyone …better lebanon is the only reward we seek. Help us get there!