Ibrahim calls for 'preemptive' anti-terror strike '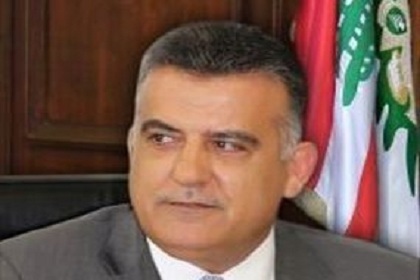 Reacting to the Beirut and Paris attacks, Lebanon's General Security chief Maj. Gen. Abbas Ibrahim called for "preemptive" strikes in the fight against terrorism and revealed that his agency is behind the development of the preemptive security theory to foil any act of terror before it happens.
In an interview with Iran's official news agency IRNA, Ibrahim stressed the importance of "exchanging intelligence and expertise and coordination among nations in order to achieve the highest extent of success in the anti-terror fight."
Ibrahim noted that "the Lebanese General Security was behind developing of the preemptive security theory, which is the ability to foil any act of terror before it happens."
"Lebanon and all countries in the region are facing conspiracies and schemes seeking to undermine their security and stability and to plunge them into chaos through terrorist acts, but the General Security agency has managed to prevent a lot of operations through arresting many individuals," Ibrahim added.
"But this does not mean that the terrorists will stop trying and the General Security agency is in full readiness and preparedness for the confrontation no matter the sacrifices," he went on to say, reminding that "Lebanon is relatively secure compared to the rest of countries."
Citing security "complications" such as "the unrest in Palestinian camps and the infiltration of terrorists into Syrian refugee encampments," Ibrahim reassured the Lebanese and noted that the challenges can be confronted through "the political and popular support for the work of security agencies."
Ibrahim's remarks come four days after two Islamic State suicide bombers killed 43 people and wounded around 239 others in the Beirut southern suburb of Bourj al-Barajneh, several suicide bombers killed 129 people in Paris in he worst bloodshed in France since the end of World War Two and a bomb killed 224 passengers on a Russian airliner over Sinai desert in Egypt.
On Sunday, Interior Minister Nouhad al-Mashnouq announced that "the whole suicide bombing network and its supporters were arrested in the 48 hours following the explosion," calling the arrests "an extraordinary achievement."
In a related development Ibrahim revealed that he had proposed "additional solutions" during his latest trip to Qatar over the case of the abducted servicemen, expecting imminent "progress" in the case.
The Lebanese soldiers and policemen were taken hostage during a deadly raid by the jihadist Islamic State and al-Nusra Front groups on the northeastern border town of Arsal in August 2014.
This is to remind all our readers to respect the community . Comments that contain personal attacks or inappropriate language will be removed.
For those who are new to this site please note that Ya Libnan is all about fixing Lebanon.
We want our readers to come up with ideas that if implemented will make lebanon a better country.
Ya Libnan is a democratic venue that is open to anyone wishing to contribute any ideas to improve Lebanon. Our only wish is to maintain the civility of the discussions and that is why those who have not been able to abide by this rule have been banned from participating in this forum . We don't want or expect anything from anyone …better lebanon is the only reward we seek. Help us get there!