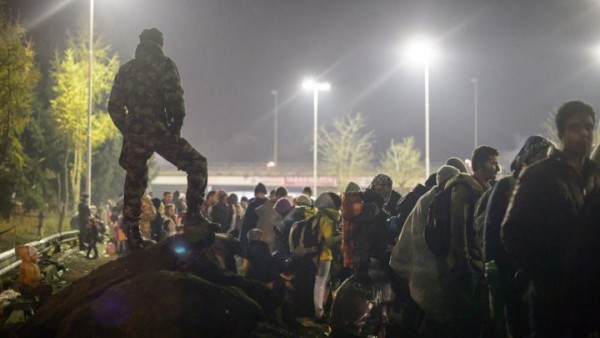 In a new blow to the EU's cherished open-border Schengen accord, Austria announced Friday it would erect a 3.7-kilometre (2.3-mile) metal fence along its border with Slovenia to better manage a record influx of migrants and refugees.
The barrier, due to be completed in less than six weeks, will be the first fence between two members of the passport-free zone.
Austrian Interior Minister Johanna Mikl-Leitner insisted the "fence conforms to the Schengen accord", adding that it was part of temporary measures aimed at "channelling" the human flow.
"We are talking here about an ordered inflow and not a barrier," Austrian Chancellor Werner Faymann's chief of staff, Josef Ostermayer, told reporters in Vienna.
The move came a day after European Union President Donald Tusk warned that Schengen—one of the bloc's most important achievements—was on the brink of collapse as a result of fallout from the migration crisis.
Austria's decision is the latest in a series of tough measures taken by countries to tackle the continent's worst migration crisis since World War II.
Earlier this week, Sweden—a preferred destination for migrants—reinstated temporary border controls, while Slovenia rolled out razor wire along its frontier with non-Schengen member Croatia.
Fellow bloc member Hungary already sealed its southern border with razor wire last month, diverting the influx toward Slovenia.
More than 800,000 people have landed on Europe's southern shores so far this year, the UN said on Friday. Many are fleeing conflict in Syria, Iraq and Afghanistan.
'Not a barrier'
Austria's mesh fence either side of the Spielfeld border crossing point in southern Austria will be 2.2 metres (7.2 feet) high.
Barbed wire will be stored in nearby containers ready to be rolled out along the border—within the passport-free Schengen zone—if the situation escalates, officials said on Friday.
Austria had initially planned to install a 25-kilometre fence but "our Slovenian colleagues have asked us to not do this immediately," said Austrian Interior Minister Johanna Mikl-Leitner.
"They have offered to increase border security measures by erecting a fence to create a safety corridor and to reinforce police patrols on the Slovenian side to prevent (unofficial) border crossings."
However Austrian authorities were ready to unfurl the entire 25-kilometre fence if Slovenia's measures failed to control the flow, she stressed.
Both countries, which share a 330-kilometre border, have become a major transit route for hundreds of thousands of people heading through the Balkans bound for northern Europe this year.
Most travel onwards but Austria still expects a record 95,000 asylum claims this year, making it one of the highest recipients on a per capita basis.
Faymann's fractious coalition government has also come under pressure to do more to stem the flow because of growing support for the far-right Freedom Party, which is leading opinion polls.
Top EU officials have repeatedly expressed unease over individual countries fencing off their borders.
"Saving Schengen is a race against time and we are determined to win that race," Tusk said at the end of an EU-Africa summit in Malta on Thursday.
At the summit, EU leaders struck an aid-for-cooperation deal with Africa and proposed a conference this year with Turkey in a two-front push with wary partners to tackle the migration crisis.
FRANCE 24/AFP