Russia risks Syrian quagmire: U.S. official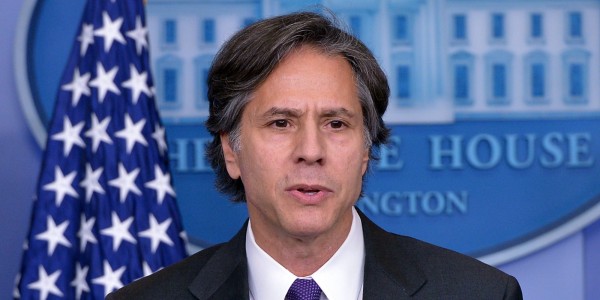 Moscow's intervention in the Syrian conflict will have the unintended consequences of drawing Russia into a quagmire and alienating Sunni Muslims across the region, U.S. Deputy Secretary of State Antony Blinken said on Saturday.
The United States has waged an air campaign against the Islamic State militant group while also backing some non-jihadist rebel groups against Syrian President Bashar al-Assad. Russia's own air strikes aim to keep Assad in power.
"The quagmire will spread and deepen, drawing Russia further in. Russia will be seen as being in league with Assad, Hezbollah, Iran, alienating millions of Sunnis in Syria, the region and indeed in Russia itself," Blinken said at a security conference in Manama.
Syria's civil war has aggravated sectarian tensions in the region, with Iran, Lebanon's Hezbollah militia and some Iraqi militias, all Shi'ite, backing Assad against rebel groups that are overwhelmingly Sunni.
"One month has passed since the Russian occupation. More than 1,400 are killed, all civilians, in parts of Syria. And these are areas which are outside the control of Daesh," Syrian opposition leader Khaled Khoja said in Manama, using an Arabic name for Islamic State.
Talks in Vienna on Friday provided the first occasion on which Saudi Arabia and Iran, the region's two main backers of opposing forces in Syria, put aside their bitter rivalry to discuss the possibility of a peaceful solution.
However, Saudi Foreign Minister Adel al-Jubeir said in a television interview that Russia and Iran had to agree on dates and means for both Assad to leave power and for foreign forces backing him to quit Syria.
Asked in Manama when that should take place, he replied: "He should leave this afternoon. The sooner the better." Jubeir added that Riyadh was meanwhile considering intensifying support to moderate Syrian rebels by providing them with "more lethal weapons", but gave no further details.
MILITARY ONSLAUGHT
Blinken said that while Russia's involvement might increase Moscow's leverage over Assad, the conflict would also create "a compelling incentive for Russia to work for, not against, a political transition".
"Russia cannot afford to sustain its military onslaught against everybody opposed to Assad's brutal rule. The costs will mount every day in economic, political and security interests," he added.
Meanwhile, the United States remained "laser focused" on what Blinken called objectionable Iranian actions in the region, including support of terrorism, in the wake of its nuclear deal with major powers.
Addressing the Manama Dialogue regional security conference in Bahrain, he said U.S. engagement in the Middle East, while deeper than ever, was broad and went beyond the military aspect, adding that there was no military solution to Syria's war.
On Friday, the United States disclosed plans to station its first ground troops in Syria for the war against Islamic State.
Washington has sought to reassure Gulf allies that its reluctance to actively participate in military efforts to push Assad from power does not mean it is turning its back on the region or on its traditional Arab partners.
Delegates at the Manama conference, a rare talking shop on security, included ministers, diplomats and intelligence officials from countries in the Middle East and north Africa, Gulf Arab states as well as the United States and Britain. Gulf-based Russian diplomats were also present.
Bahrain's Foreign Minister Sheikh Khaled bin Ahmed Al Khalifa said at the meeting that he believed "Iranian support for subversion" in Arab states posed as great a risk as that from Islamic State.
Saudi Foreign Minister Jubeir added that he hoped Iran would use its additional revenue after sanctions were lifted following the nuclear deal to develop its economy "rather than for "aggressive policies".
The United States has supported a Riyadh-led Arab coalition fighting in Yemen to prevent the Iran-allied Houthi militia gaining control of Saudi Arabia's southern neighbor.
On Yemen, Blinken said citizens in dire need there could not afford to wait longer for peace, and it was incumbent "on all concerned" to allow humanitarian aid to reach all who required it.
Jubeir said he believed the conflict in Yemen was entering a "final phase", citing military advances made by a Riyadh-led coalition.
REUTERS