Aer Lingus flight EL485 drama: A man bites passenger before dying on board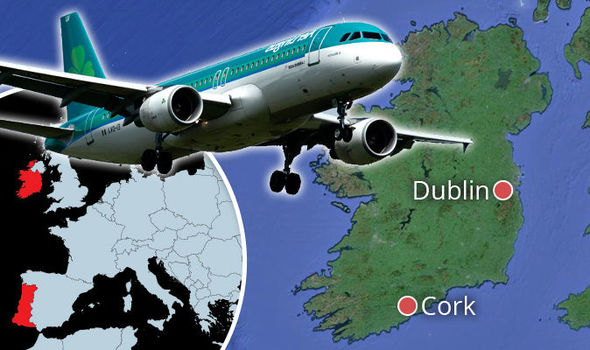 A FLIGHT was diverted last night after the pilot declared an emergency when a man bit another passenger before dying.
The incident occurred as Aer Lingus flight EL485 travelled from Lisbon in Portugal to Dublin.
Reports say the man, who has not been named, was restrained by desperate crew after he flew into a rage and began biting another passenger.
However, the man later died on board despite the intervention of a medic who was also making the two-hour trip.
Crew broadcast an emergency message to air traffic controllers informing them there was a medical emergency mid-flight and the plane was diverted, later landing at Cork airport at around 5.40pm.
All 168 passengers and six crew were moved off the plane and into the airport while medics attended to the deceased man who was travelling alone and is believed to be Portuguese .
Now the Garda are investigating the identity of the man and speaking to passengers and crew who were on board the flight to establish exactly what happened.
A Garda spoeksman said: "We have yet to establish who the man is but believe he is 25 years old and from Portugal.
"A post mortem examination will take place later today and that will direct the course of our investigation.
"We understand one passenger was injured but we are now investigating the circumstances surrounding that."
In a statement, Aer Lingus confirmed the plane was forced to land due to a "medical emergency on board".
An Aer Lingus spokesman said the plane had landed safely after being diverted.
"There were 168 guests and six crew members on board. The flight landed safely at 17.40 local time."
All other Aer Lingus flights are believed to have run as scheduled.
The spokesman said: "Aer Lingus flight El 485 Lisbon to Dublin, diverted into Cork due to a medical emergency on board.