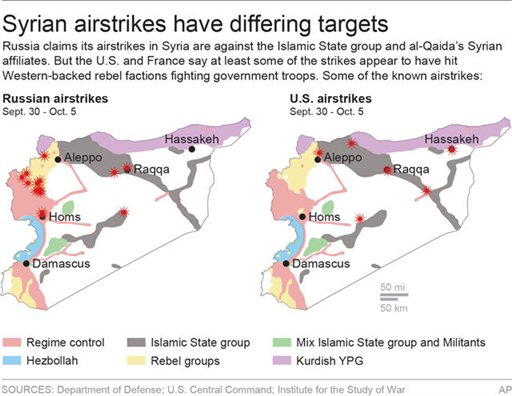 Islamic State militants seized several villages from rival insurgents north of Aleppo city Friday, in a surprise attack that came despite intensive Russian airstrikes that Moscow insists are targeting the extremist group, activists said.
Iranian state media reported that a senior commander in Iran's powerful Revolutionary Guard was killed by the Islamic State group on the outskirts of Aleppo city, but it was not immediately clear whether Gen. Hossein Hamedani's death was related to the new IS offensive.
An Iranian state television report said he was killed while "carrying out an advisory mission." It didn't provide any further details. The official IRNA news agency read a statement by the Guard in which it blamed IS for his death.
The new developments come amid a wave of Russian airstrikes that have targeted insurgents fighting to topple President Bashar Assad, and a ground offensive by the Syrian army in the country's central region.
Moscow says it is targeting mainly Islamic State militants, but U.S. officials and Syrian rebels have said the strikes have hit mainstream rebels for the most part and are designed to shore up Assad's embattled government and troops.
In a surprise attack, the Islamic State group seized a string of villages from rebels in Aleppo province Friday. The Syrian Observatory for Human Rights said the advance by the extremists, which began Thursday night, is the most significant in months. It said the militants seized the villages of Tal Qrah, Tal Sousin and Kfar Qares north of Aleppo city.
The group also seized a former army base known as the Infantry Academy that rebels captured from the Syrian army two years ago. The base is located around 10 miles (16 kilometers) northeast of Aleppo city. IS-affiliated accounts on Twitter also announced the militants had seized those villages.
It was not clear whether Hamedani's killing was related to that IS offensive.
"Brig. Gen. Hamedani was martyred by Daesh terrorists during an advisory mission in the outskirts of Aleppo" on Thursday afternoon, said the statement read on IRNA, using an Arabic acronym for the group.
Hamedani is one of the most senior Guard commanders to be killed in Syria, and the second to be killed this year. He was a veteran commander who had an important role in Iran's 1980-88 war with Iraq.
In January, Brig. Gen. Mohammad Ali Allahdadi was killed in an Israeli airstrike in Syria that also killed six Lebanese Hezbollah fighters.
Iran is one of Syrian President Bashar Assad's main allies. Tehran has provided his government with military and political backing for years and has kept up its support since Syria's civil war began in 2011.
Guard commanders repeatedly have said Iran only has high-level advisers in Syria, denying it has fighters there.
Assad is from the Alawites, an offshoot of Shiite Islam. Iran is majority Shiite. Syria's rebels are mostly Sunni.
ASSOCIATED PRESS