Who is in the air and on the ground in Syria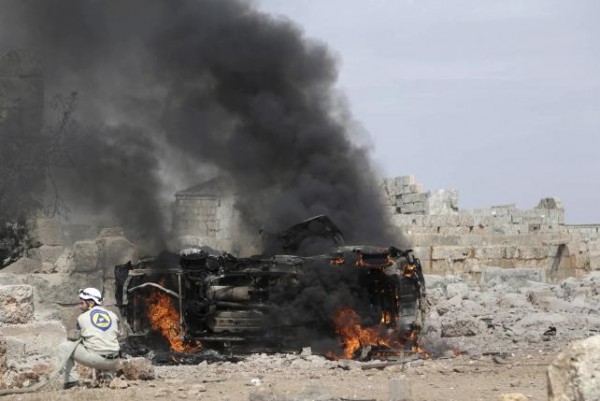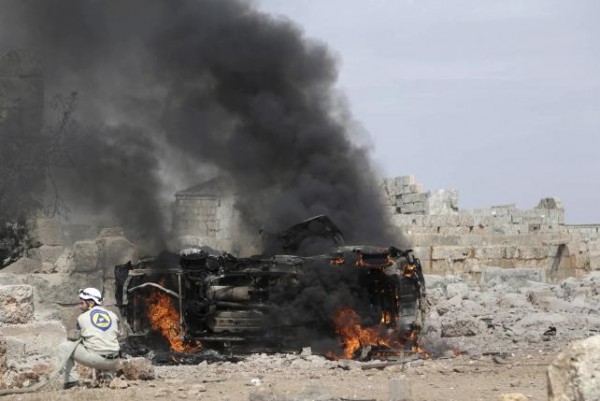 Russia is the latest country to enter Syria's complex conflict that killed 250,000 people and displaced half of the country's prewar population since March 2011. Here is a look at the combatants:
WHO IS IN THE AIR
SYRIA: A longtime ally of Moscow, Syria has a fleet mostly from Russia that includes MiG-29 fighter jets and Su-24 bombers. The government began targeting rebels with helicopter gunships in 2012. Now, it often uses crude "barrel bombs" that are one of the deadliest weapons in the civil war. These cause mass casualties and force millions from their homes. The government is also accused of using its helicopters to send chlorine and other toxic gas in the barrel bombs.
RUSSIA: On Wednesday, Russian jets began airstrikes in Syria's central and northwestern provinces — gateways to President Bashar Assad's strongholds in the capital of Damascus and the coast. Russia says it is coordinating its action with the Syrian government and is receiving intelligence from Iran and Iraq. Russian officials say more than 50 warplanes and helicopters are taking part in the open-ended airstrike operations, including Su-24M, Su-25 and Su-34 jets.
U.S.-LED COALITION: The U.S.-led coalition began targeting Islamic State sites in Syria in September 2014. It has carried out 2,579 airstrikes in Syria to date, most of them by the U.S., although the coalition includes Saudi Arabia, Jordan, Australia, Canada, Turkey and France. It has focused on Islamic State-held areas in northern and northeastern Syria, targeting as many as 196 oil facilities operated by the group, and 2,577 fighting positions, although it has failed to stem the group's advances. The coalition strikes also targeted an affiliate of al-Qaida in Syria, the Khorasan group, in 2014.
ISRAEL: Israel has mostly stayed on the sidelines throughout the conflict, but it has carried out airstrikes against suspected weapons shipments to its nemesis, the Lebanese militia Hezbollah. Last week, Israel's military hit two Syrian army posts after rockets from Syria landed in the Israeli-controlled Golan Heights. Israel has said it is coordinating with Russia to avoid accidental confrontations in Syria.
WHO IS ON THE GROUND
SYRIAN AND ALLIED TROOPS: The Syrian army and pro-government forces, largely made up of the Shiite Alawite sect, have been fighting over a large battleground. Some estimates say 80,000 of those forces have been killed. They have been joined by Lebanon's Shiite Hezbollah militia, known for its well-trained fighters. The militia helps defend Shiite shrines near the capital but also provides help in central and border areas. Iran has been bolstering Assad by sending weapons and advisers, and helping arrange the deployment of Shiite fighters from Iraq and Hezbollah, as well as sending financial aid. Hundreds of Iranian troops have arrived in Syria in recent weeks to join a major ground offensive in support of President Bashar al-Assad's government , a sign the civil war is turning still more regional and global in scope.
ISLAMIC STATE GROUP: The group, with an estimated 20,000 to 30,000 members, is said to control a third of Syria. Last year, it established control of one of Syria's 14 provinces, the northeastern province of Raqqa, which borders Iraq. The provincial capital, also called Raqqa, has been declared the seat of the IS caliphate that spans a third of both Syria and Iraq. The group also has strong presence in neighboring Deir al-Zour province. Both provinces are oil-rich and constitute the stronghold of IS in Syria, with access to the border. The group, with hundreds of Western and Arab fighters, has a presence in northern Aleppo province and has been fighting with rebel groups there. It has also established strategic presence in the central province of Homs, taking over the ancient city of Palmyra in May and recently the key town of Qaryatan, which gives it a chance to advance toward Damascus, the city of Homs and other major towns.
JABHAT AL-NUSRA AND ALLIES: This al-Qaida affiliate is the second strongest extremist group in Syria, with a presence in northern and western areas. It has allied with a myriad of local groups. A close ally of JN is the ultraconservative Ahrar al-Sham, or the Free People of the Levant. Recently, Ahrar al-Sham has tried to portray itself as a moderate rebel group fighting both Assad's forces and IS extremists. Like many moderate groups, Ahrar al-Sham appears to be gaining support from the Gulf countries, who are staunch opponents of Assad, and Turkey. Under the umbrella group known as Jaish al-Fatah, or Army of Conquest, they secured control of the northwestern province of Idlib. This umbrella group includes fighters from Russia's Chechnya region and some Central Asian countries. The coalition groups divide up security and combat efforts across the large province, whose borders are a few miles from Assad's coastal stronghold.
MODERATE REBELS: Dozens of armed factions have operated under the umbrella of the Free Syrian Army, with a Western-backed military command. Recently, some have been trained under a struggling U.S. program to train rebels to fight Islamic State militants. There are fewer than 80 such U.S.-trained rebels in Syria, and a dozen others were killed or kidnapped by al-Nusra. These moderate groups have been eclipsed by better-armed and more radical Islamic groups, who fight both government forces and the Islamic State. These moderates are mostly Syrians and are spread across the country. Some have broken off to work in coalitions with al-Qaida-affiliated and other ultraconservative groups. Syria expert Charles Lister estimates there are about 100 armed factions in the country. Some of these have come under attack by Russian warplanes.
KURDS: Concentrated in the northeastern part of Syria, Kurdish rebel groups were the ground allies for the coalition airstrikes. In 2014, an intense bombing campaign helped Kurdish forces retake the northern border town of Kobani from IS fighters after months of fighting, a rare victory against the extremists. The U.S. also has dropped weapons to the Kurds. But this summer, coalition ally Turkey, with its own sizable Kurdish opposition, began bombing Kurdish rebel fighters in Iraq, threatening the anti-IS alliance. Local Kurdish fighters appealed to Russia for arms to help fight IS.

Associated Press