Hariri accuses Nasrallah of using the hajj stampede to settle Iran's political scores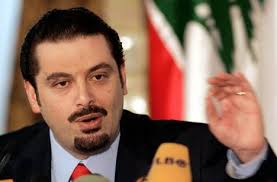 Former Lebanese PM and Future Movement leader MP Saad Hariri slammed on Saturday Hezbollah chief Hassan Nasrallah's most recent stances stressing that the latter has linked the fate of Lebanon's presidency to the situation in Syria, dimming any hopes for having a head of state.
"Sayyed Hassan has announced that Lebanon will not have a president before knowing the fate of the presidency in Syria," said Hariri via twitter about nasrallah's interview with al Manar TV
"The whole rhetoric of Sayyed Hassan on the interior situation in Lebanon means that nothing will move forward," Hariri added.
"Sayyed Hassan believes that Lebanon is perfect grounds for Iranian politics. He believes that the Christians are a major component in Lebanon's existence, but pledges a head of state who covers the presence of Hezbollah and its influence in a number of countries," Hariri underscored.
Hariri also slammed Nasrallah's positions on the Mena stampede in Saudi Arabia saying: "Nasrallah's position coincides with the Iranian position which takes advantage of the souls of innocent Muslims as a means to settle Iran's political scores with Saudi Arabia."
He added that "Nasrallah's words totally match the provocative statement made by Ayatollah Ali Khameni. They both gave prejudiced statements against Saudi Arabia and its leadership, but Nasrallah went further by calling for the Muslim countries to participate in managing the Hajj affairs. This is a pure Iranian call, which has been opposed by the Islamic countries . Iran's real aim is to pull Mecca and the two holy mosques away from the Saudi umbrella."
"The latest statistics up to this hour reveal 769 dead," Saudi health minister Khalid al-Falih told a news conference on Saturday. "That is an increase of 52 on the previous figures. Those are the ones who died in various hospitals since the event." He added that the number of people injured in the incident now stood at 934.
At least 134 Iranian pilgrims died and 85 were injured in the incident on Thursday, while 354 Iranian pilgrims remain missing, according to the report. Iran has strongly criticised Saudi Arabia over the disaster, blaming the Saudi government for "incompetence" and "mismanagement" of the annual hajj.
A former Iranian ambassador to Lebanon is feared to have died in the stampede at the hajj pilgrimage in Saudi Arabia. Ghazanfar Roknabadi, who worked as the country's ambassador in Beirut until last year, has been declared missing and is believed to have been at the pilgrimage to Mecca, Iran's state TV said.
On Hezbollah's involvement in the fighting in Syria, Hariri said: "Nasrallah is acting like he is Iran's high commissioner in Syria and takes the right to negotiate on Zabadani, al-Fouaa and other regions.
"Nasrallah denies any Iranian involvement in Syria, and that is hilarious and surprising," Hariri concluded.