Israel also fencing off its borders with Jordan
Israel began construction of a fence along its border with Jordan on Sunday, Prime Minister Benjamin Netanyahu announced at a weekly cabinet meeting last week .
"Today, we are starting to build a fence on our eastern border," he said Last Sunday.
"In the first stage, we will build it from Timna to Eilat in order to protect the airport being built there, and we will continue the fence up to the Golan Heights, where we have already built a strong security fence."
"To the extent that it is possible we will encompass Israel's borders with a security fence and barriers that will allow us to control our borders," Netanyahu said.
"We will not allow Israel to be flooded with illegal migrants and terrorists."
Netanyahu's decision to construct a fence along its border with Jordan came after the refugee crisis in Europe captured the world's attention.
"A collapse of the Hashemite rulers amid Sunni jihadist terror and domestic riots is Jerusalem's nightmare," according to Haaretz daily. Israel reportedly invests significant efforts in security coordination with Jordan, (but no one will say this publicly and explicitly ) , despite the fact that Israel has been predicting every few years a dark future for King Abdullah.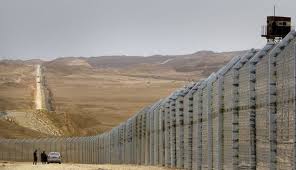 With CNN , Haaretz