Fed up Tunisians go online to fight garbage, rudeness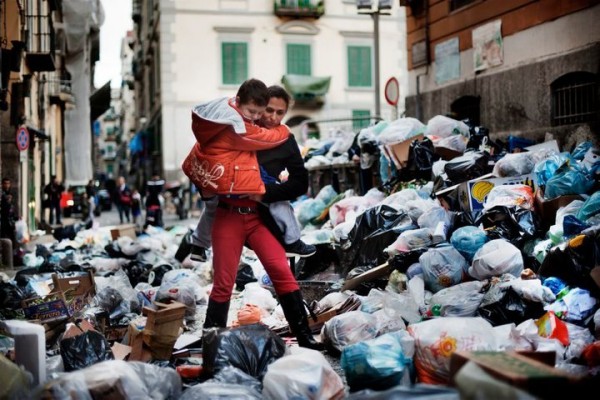 Rubbish clutters the streets, drivers cheerfully burn red lights and coffee shops rudely spill out onto the pavement.
When Tunisians overthrew a 23-year-old dictatorship more than four years ago, many hoped it would mean a better society and improved public services.
But today rubbish collection is irregular, a pothole in the motorway can remain unfilled for months and it has become increasingly common to see people throwing dirty tissues and empty soda cans out of car windows.
"It's a complete mess," says Tunis resident Adel as he narrowly escapes a car hurtling down a tramway track.
Fed up with their surroundings deteriorating, Tunisians have taken to social media to try to change behaviour and pressure local authorities into doing something.
A flurry of civil society initiatives have emerged to counter what local newspaper La Presse calls "general sloppiness" and the "unbearable trivialisation of the presence of rubbish".
Most are groups and events on Facebook with names such as "I keep my street clean" or "Tunisia's Green Brigade".
One enterprising Tunisian has even released a mobile phone app that allows residents to photograph and report problems directly to local authorities.
In August, Zied Mallouli, a teacher from Tunisia's second city Sfax, launched a group using the hashtag "#Sayeb_Trottoir" ("#Get_off_the_pavement") to call on the authorities to intervene.
'It drives me crazy!'
"It drives me crazy!" he tells AFP, speaking of the shops, cafes and restaurants that overflow onto the pavement and cars that park in space intended for pedestrians.
At his own initiative, Mallouli toured several Tunisian cities to take photos of such transgressions and denounce them on Facebook. Soon thousands had joined his group and images poured in from across the country.
"It's as if people had been waiting for it," he says.
"I'd like the authorities to get their act together, to do their work. I just want to be able to walk on the pavement."
Another Tunisian, Raafet Limam, was also thinking of how Tunisians could communicate with the authorities about such issues when he created Plan125, a mobile app with a Facebook page that has some 40,000 members.
With it, users can post photos of their frustrations like street lights shining during the day or beaches overrun with empty plastic bottles.
The app then aims to provide local officials with a username and password so that they can keep track of problems in their region, fix them and publicise their efforts.
"With just a few clicks, you can see what problems exist in what region," Limam says.
"New technologies have made it all easier. Instead of writing up a complaint and then trying to find out who to hand it to, and in what street," a photo does it, he explains.
Making a difference
Of course, officials will need to welcome the idea.
Among those that Plan125 has contacted, several have shown enthusiasm at the initiative, he says. Others have been more cautious, even resistant to using new technologies.
But Limam says he is confident the app will catch on.
Civil society initiatives such as his have already made a small difference.
To the great joy of online activists, the Tunis municipality recently announced it had seized the tables and chairs of 12 establishments that had illegally occupied the pavement after "working with the #Get_off_the_pavement campaign".
Maher Zaher, deputy head of the La Marsa municipality near Tunis, says that local councils — replaced after the revolution by "special delegations" until local elections are held — don't have the means they did before.
The municipal police, for example, are now linked to the interior ministry so more difficult to mobilise.
Tunisia is still undergoing a difficult transition after the overthrow of longtime dictator Zine El Abidine Ben Ali in 2011 in a revolution that marked the beginning of the Arab Spring uprisings.
Most of all, Zaher says that he hopes Tunisians will become more aware of their actions.
"If everyone who goes swimming starts to throw rubbish… there simply isn't a cleaning company to pick it up."
FRANCE24/AFP