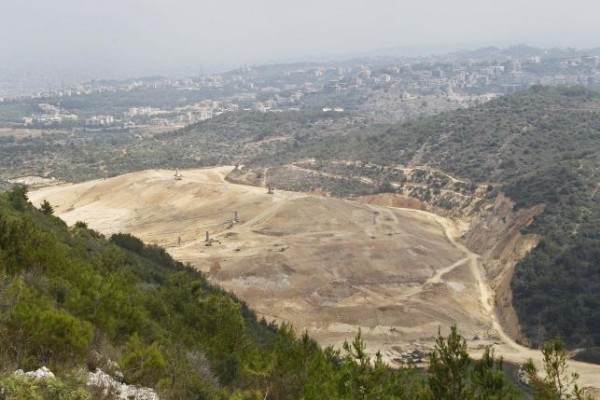 Here are the latest updates on current issues in Lebanon.
Landfills…back to square one
The Naameh landfill, which lies in Shouf district, opened in 1997 to receive trash from the capital and Mount Lebanon area for only a few years until a comprehensive solution was devised. But that plan never came to fruition. The landfill that was originally expected to receive only two million tons of garbage swelled into a trash mountain of over 15 million tons 18 years after it opened.
The government closed the landfill last month, causing a trash crisis that snowballed into anti-government protests in downtown Beirut. But now there are new reports indicating the the Naameh landfill will be reopened again. The decision reportedly hinges on PSP leader MP Jumblatt who represents the Shouf district in the parliament . There are talks about incentives similar to those offered to Akkar.
MP Akram Shehayeb who is is now handling the garbage file met several mayors at his office to discuss the garbage crisis
Dialogue : Berri challenges rival parties
Speaker Nabih Berri has warned Lebanon's rival leaders that they would be held responsible for the worsening of the country's crises if they take the dialogue session set to be held this month for granted.
"The ball is now in the court of the parties who have been invited to the distress call that we have made to salvage the country which is sliding towards unrest because of the collapse of institutions," Berri was quoted by sources as saying
Israeli violations
VOL (100.5) radio station reported that Israeli troops patrolled Lebanon's southern border and Israeli warplanes hovered over the Shebaa farms, Kfar Shouba and al-Arkoub regions.
6 clinics closed
Health minister Wael Abu Faour announced the closure of six health clinks for not meeting the health standards . "We cannot ignore the corruption taking place at some health institutions because this is affecting the health of the people" , he said
Abu Faour also ordered the shutdown of 35 dispensaries and warned 281 others
Cocaine
A Swedish citizen was arrested by the customs authorities at Beirut International airport over smuggling 19 kg of Cocaine
This error message is only visible to WordPress admins
Error: No connected account.
Please go to the Instagram Feed settings page to connect an account.