Here are the latest updates on current issues in Lebanon.
Ain el Helweh
Al-Jadeed reported that clashes have intensified in the Ain el-Helweh camp and the sounds of RPG blasts were echoing in the city of Sidon.
A number of individuals were wounded in the clashes overnight and were taken to Sidon Hospital for treatment, NNA reported
Sidon Mayor on Tuesday asked to open the municipal palace at Sidon to receive the families of Ain el Helweh camp after overnight heavy clashes, NNA reported .
The clashes that broke out overnight at Ain el Helweh camp between Fatah and Jund al Sham members resulted in the death of two people and the injury of 14 others, NNA reported.
The traffic on Sidon eastern Highway was diverted on Tuesday in both directions to the Seaside road due to the current security situation in Ain el Helweh Camp, Traffic Management Center was quoted as saying by NNA.
Cabinet session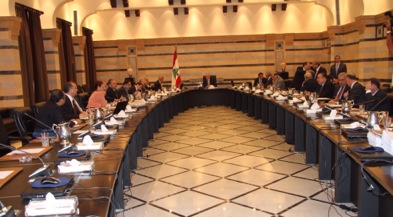 The cabinet session has kicked off at the Grand Serail. Ministers began arriving at the Grand Serail to attend the cabinet session about an hour ago .
Prime Minister Tammam Salam was quoted as saying that he will finalize the waste management issue during Tuesday's extraordinary Cabinet meeting.
"This time I will not give a chance for consensus," Salam vowed, adding that his decision would be based on the ministers' approach to the garbage issue.
"I will sign during the Cabinet meeting," Salam said in remarks published Tuesday by local newspaper Al-Akhbar. "Those who want to object or make reservations or hinder will bear the responsibility."
"I am the head of the executive power and I will exercise all the responsibilities and powers entrusted to me." He stressed.
Salam also stressed that decisions made by the Cabinet will be implemented, in a clear response to Free Patriotic Movement leader Michel Aoun.
Aoun's ministers have warned they will not allow any Cabinet decision before their demands are met.
"Nobody shall accuse us of disruption. We are disrupting the disruption, and we will not allow any decision to pass before a real partnership mechanism is established," a bloc statement said after last week's weekly meeting at Aoun's residence.
Garbage bids
Finance Minister Ali Hassan Khalil told VOL (100.5) radio station: The waste management bids need to be reconsidered, and the prices are higher than expected.
Similarly Justice Minister Ashraf Rifi said he will not approve the waste management bids.
Health Minister Wael Abou Faour was quoted as saying from the Grand Serail:
" Reopening the Naameh landfill is not being put for discussion, and the fictitious prices should be reconsidered."
This error message is only visible to WordPress admins
Error: No connected account.
Please go to the Instagram Feed settings page to connect an account.