Hariri stressed his support to PM Salam, warns of attempts to 'topple the government'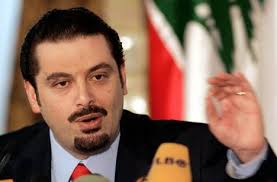 Former Lebanese prime minister and Future Movement  leader MP  Saad Hariri on Sunday stressed his support for the stances expressed by Prime Minister Tammam Salam in the wake of Saturday's violence during the peaceful  protests and warned  of attempts to "topple the government."
Condemning "any form of extreme security measures in facing peaceful protests," Hariri cautioned in a statement against "attempts to drag the country into chaos and the unknown."
He  noted that the mission of the government is to "reinforce security and stability and manage the affairs of the state until the problem of the presidential vacancy, which has been going on for over a year, is resolved."
"This vacancy reflected negatively on the path of the state as a whole and on the work of the government and its tasks of managing public affairs and meeting the needs of people," said Hariri.
He added: "We admit that there is a deficiency in resolving a national crisis that is affecting every village and city in Lebanon, but protesting against the garbage crisis and demanding a fast solution to it is one thing, and demanding to topple the government and the system is another thing."
He  warned that "toppling the government means toppling the last legitimate stronghold and taking Lebanon into the unknown."
"We will not allow the collapse of Lebanon and its legitimacy, and we stress at the same time that the garbage crisis will not remain captive of political disputes; it will find realistic solutions in the coming days," Hariri pledged.
Earlier on Sunday, Salam said he was ready to meet with protesters, admitting that "excessive force" had been used against the demonstrators.
Protesters headed back to downtown  Beirut on Sunday morning, joining those who had spent the night there in tents after evening protests spiraled into clashes with security forces that left more than 50 You Stink protesters injured.
Protests in recent weeks have called for a comprehensive solution to Lebanon's trash crisis, which has seen piles of garbage  growing in Beirut and elsewhere since the country's largest landfill shut down on July 17.
The You Stink protesters demanded that PM Salam   should submit his resignation at once and also   called for a massive demonstration at 6:00 pm.
Progressive Socialist Party chief MP Walid Jumblatt ( who ordered all PSP participants in the protest to withdraw and who is famous for saying in 2004"I would rather be a garbage man in New York than a political leader in today's Lebanon") ,  also voiced his support to the You Stink activists but  warned them about the possibility that their cause is being hijacked by opportunists :
"Be wary of the forces of obstruction attempting to take advantage of this movement, particularly the forces that have obstructed the presidential elections, then the parliament, and now the Cabinet. This will harm domestic stability as well as the rightful demands of the people," he said, noting that he was keen on preserving civil peace at any price.
He was reportedly  referring  to FPM and its leader MP Michel Aoun who has been reportedly obstructing the presidential elections, the parliament and the Cabinet along with the Iranian-backed Hezbollah militant group.