Aoun attacks Lebanese cabinet and army chief over term extension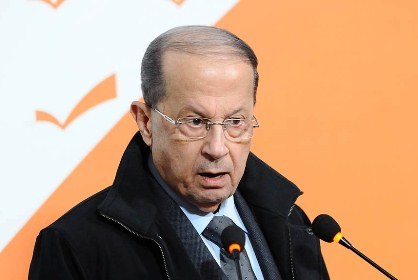 Free Patriotic Movement MP Michel Aoun said following FPM's extraordinary meeting on Saturday:
"The cabinet is trying to seize the rights of parliament, the constitution, and army."
His statement comes in reference to the term extension of military officials.
Defense Minister Samir Moqbel extended on Friday the terms of the Army commander, chief of staff and the head of the Higher Defense Council despite months of objections by the FPM, which rejects the extension of the tenures of high-ranking military and security officials.
Army chief of staff Maj. Gen. Walid Salman was due to retire Friday. Army chief Gen. Jean Kahwaji's term ends on Sept. 23.
Aoun told reporters on Saturday: "Haven't they realized that I derive my strength from the people, not anyone else?"
A possible reference to the Hezbollah militant group , his Iranian backed ally .
Aoun used the occasion to attack army Commander Aoun Jean Kahwaji:
"You have no right to allow the flow of arms to thrive in Arsal and Tripoli." He told Kahwaji.
He added :"We are defending the rights of the people." A possible reference to FPM's recent protest during which his supporters clashed with the army
Aoun who seeks to replace the army chief with his son-in-law warned Kahwaji against dragging the people in another confrontation with the army.
Commenting on the extension of the terms of the military officials, by the cabinet he said :
"This is a government of garbage" and accused politicians of cooperating with foreign powers to commit treason against the people.
He also accused Kahwaji of politicizing the army and placing it in the service of politicians.
He praised his ally Hezbollah and its role in Syria.
"Had it not been for Hezbollah and its defense of Lebanon, Christians would face the same one as that of those of Nineveh in Iraq." He said in reference to the persecution of minorities at the hand of jihadists.
Aoun , who warned yesterday that he will for street protests said:
"When the call is made, I call on all the supporters of the FPM to heed it."
He concluded his speech by saying :
"All Lebanese are expected to express themselves during protests, which are a right preserved by the constitution."
A scuffle broke out between FPM supporters and army earlier in July at Banks street near the Grand Serail.
One of Aoun's supporters was wounded in the scuffle with the Lebanese army as he was attempting to force his way thru to the Grand Serail . He accused the army of beating him on his head .