Lebanon Speaker backs extension of officials' terms if no deal reached on appointments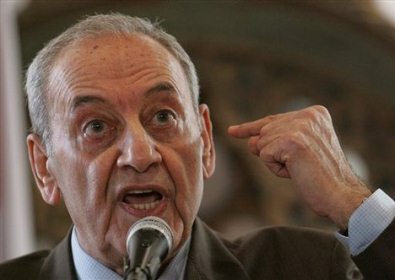 Lebanon Parliament Speaker Nabih Berri reiterated that he backed the appointment of top security and military officials but would not reject the extension of their terms if the government failed to reach an agreement on the appointments.
"I am with the appointments … but if there were no consensus, then I would back the continued functioning of the institutions, meaning extension," Berri, told  al-Joumhouria daily in remarks  published in Wednesday.
"We resort to extension if we can't fill any administrative post," said Berri. "This is necessary to ensure the continuation of the work of institutions."
Berri  also expressed hope that the parliament would resume its functions, either by opening an extraordinary legislative session, which is awaiting the needed signatures of cabinet ministers, or by holding an ordinary session in October.
Parliament convenes twice a year in two ordinary sessions — the first starts mid-march until the end of May and the second from the middle of October through the end of December.
Berri said that cabinet ministers and lawmakers should put their differences aside and approve important decisions and draft-laws if they are keen on the nation's interest.
"We should not hold onto paralysis," he added.
The Lebanese parliament failed earlier this month and for the 26th time in a row to elect a president to replace Michel Suleiman whose term ended on May 25.
As in the past sessions the parliament was unable to reach a quorum because the Iranian backed Hezbollah militant group and its ally MP Michel  Aoun's Change and Reform bloc MPs boycotted the sessions.