5 U.S.-trained Syrian rebels captured by al Qaeda wing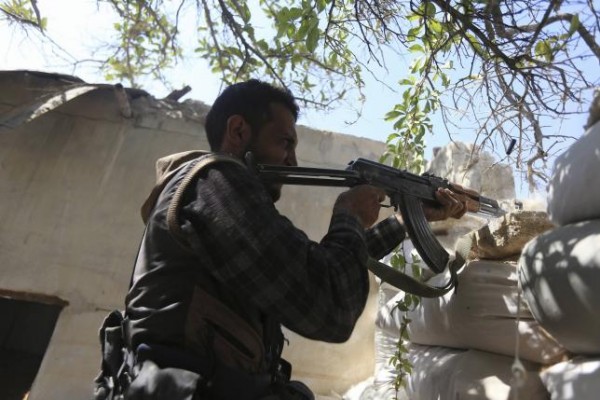 The United States said on Tuesday it had indications that Syrian rebels trained by the U.S. military were captured by fighters from al Qaeda's Syria wing, Nusra Front, in the latest blow to a fledgling program at the center of America's war strategy.
The Pentagon said in a statement it was monitoring the situation but had "no further details to provide."
A U.S. defense official, speaking to Reuters on condition of anonymity, said at least five Syrian rebels were believed to have been captured.
That followed an attack by Nusra Front on Friday believed to have killed one of the so-called "New Syrian Forces," in what would be their first battlefield casualty.
The incidents underscore the extreme vulnerability of the New Syrian Forces, a still tiny group thought to number less than 60 who only deployed to the battlefield in recent weeks.
The White House, Pentagon and State Department this week restated the U.S. commitment to defend them, including with airstrikes. It launched five strikes to help the New Syrian Forces eventually repel Friday's attack, for example.
The New Syrian Forces are at the core of U.S. President Barack Obama's strategy to build them into a force large enough to wrest territory from Islamic State, instead of injecting American combat troops into Syria's messy civil war.
The Islamic State is thought to control around a third of the territory in Syria.
But instead of Islamic State, the New Syrian Forces appear to be consumed with a battle against Nusra Front.
One of the most powerful insurgent groups in northern Syria, Nusra Front has a record of crushing rebel groups that have received support from Western states, including the Hazzm movement that collapsed earlier this year.
Pentagon spokesman Captain Jeff Davis said the United States had not lost focus on the threat from Nusra Front.
"The al-Nusra Front has publicly declared itself an al Qaeda affiliate … and we remain committed to working with our partners in the region to counter the threat," Davis told a news briefing.
The U.S. military's training program has been challenged from the start, with many candidates being declared ineligible and some even dropping out, putting the Pentagon far behind on its goals to train around 5,000 fighters a year.
Obama's requirement that they target militants from Islamic State has sidelined huge segments of the Syrian opposition, which is focusing instead on battling Syrian government forces.
The Pentagon on Tuesday also offered additional details on Friday's attack, saying it believed "several members" of the U.S.-trained force were attacked by about 50 fighters believed to be from Nusra Front. It declined to confirm any casualties.
REUTERS