UN official voices concern about Syria safe zone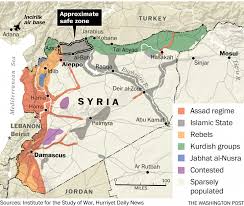 The U.N. humanitarian chief, Stephen O'Brien, has warned against calling a proposed buffer along the Turkey-Syrian border a "safe zone," saying it could risk attracting vulnerable people to an area without "sufficient protection."
Turkish and U.S. officials are discussing the creation of a safe zone near Turkey's border, which would be cleared of Islamic State group presence.
O'Brien did not yet have details on just where the zone would be or how it would affect the delivery of humanitarian aid into Syria.
He spoke to reporters Tuesday after briefing the Security Council. He has proposed a visit to parts of Syria next month, but his office says that all depends on the Syrian government.
The U.N. special envoy for Syria, Staffan de Mistura, will brief the council on Wednesday.
ASSOCIATED PRESS