Assad justifies giving up control of some Syrian territory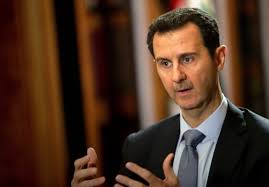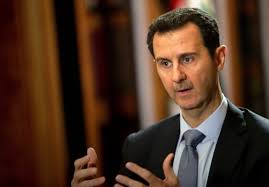 In his first public address in a year, embattled Syrian President Bashar Assad vowed Sunday to win his country's long-running civil war while acknowledging his troops had given up control of some territory.
Assad's speech, while confident, comes as his battered country is host to the extremist Islamic State group, which is targeted in daily U.S.-led airstrikes. Turkey also has begun striking Islamic State fighters in Syria, as well as some Kurdish forces now leading a ground offensive against the extremists within the splintered country's borders.
Assad's televised speech Sunday morning, given to local dignitaries in the Syrian capital, Damascus, was his first public speech since he was sworn in for a third, seven-year in July last year. Assad has given interviews to several Arab and international media outlets in the meantime.
"We are not collapsing. We are steadfast and will achieve victory," said Assad, who was interrupted several times by applause. "Defeat does not exist in the dictionary of the Syrian Arab army."
In his speech, Assad tried to justify why the Syrian army has given up some areas of the country, including the northwestern city of Idlib. Assad-allied forces, including fighters from the Lebanese militant group Hezbollah and Iranian advisers, control a little less than half of Syria's 185,000 square kilometers (71,400 square miles).
"It was necessary to specify critical areas for our armed forces to hang on to," Assad said. "Concern for our soldiers forces us to let go of some areas."
He added: "Every inch of Syria is precious."
Assad's speech comes after his government announced a general amnesty for army deserters and draft dodgers Saturday. There are thousands of army deserters in and outside Syria, many of whom have gone on to fight with rebels seeking to topple Assad. The overstretched Syrian army suffers manpower shortages as young men flee the country to avoid compulsory military conscription.
Assad has issued similar amnesties for criminals, but has not released any of the thousands of political prisoners believed to be in Syria's prisons.
Assad said that his government did not want war "but when it was imposed on us, the Syrian Arab army repelled the terrorists everywhere." Assad refers to any rebel group fighting against his rule as terrorists.
The U.S. has begun training some moderate rebels who oppose Assad, but the civil war has seen Islamic extremist groups become the most effective on the ground. Those include the extremist Islamic State group, which holds about a third of Syria and neighboring Iraq in its self-declared "caliphate."
Speaking about political dialogue, Assad said any initiative that is not based on fighting "terrorism" will be "hollow" and "meaningless."
ASSOCIATED PRESS