600 barrel bombs dropped by Syrian regime over Zabadani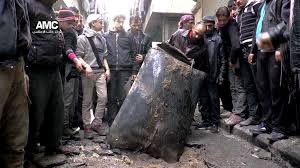 Almost 70 fighters have been killed in the two-week-old battle between pro-government forces and Islamist rebels for control of Zabadani on Syria's border with Lebanon, a monitoring group said Monday.
The Syrian Observatory for Human Rights said 46 rebels and 21 members of Lebanon's Shiite militia Hezbollah fighting on the government side have died since pro-regime forces entered the town of Zabadani on July 4.
It did not give a figure for Syrian army losses in and around Zabadani, which lies north of Damascus and in February 2012 became the first town to fall into rebel hands.
According to the Britain-based Observatory, regime aircraft have dropped 600 barrel bombs since the launch of the government offensive to recapture the town.
The Britain-based Observatory also  revealed that most of the   rebels are natives to the area and belong to Ahrar el Sham Brigade
Regime forces have seized control of a hilltop overlooking the south of Zabadani.
Hezbollah arrests its fighters
Hezbollah has arrested 175 of its own fighters after they refused to take part in  the Zabadani according to  opposition sources in Syria.
The Arabic language  newspaper Asharq al-Awsat claimed that Hezbollah fighters dispatched to Syria to shore up the regime there have begun to show reluctance to confront the rebel groups seeking to overthrow President Bashar Assad.
Like the Syrian regime, Hezbollah is an Iranian proxy in the region, receiving funds and arms from the Islamic Republic. The group has dispatched thousands of fighters to support the embattled Assad, and hundreds have been killed .
According to Lebanese media reports Iran has been unhappy with Hezbollah's performance in Qalamoun and Zabadani and for this reason the Iranian Revolutionary Guard has taken over and is now directing the fighting in both areas .
AFP/ agencies