US Defense Secretary heads to Israel, Saudi after Iran deal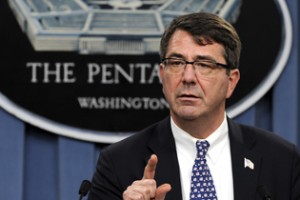 US Defense Secretary Ashton Carter heads next week to Israel and Saudi Arabia — a diplomatic charm offensives to two countries that have expressed serious concerns over the Iran nuclear deal.
Carter, who will also visit Jordan, will be renewing US security commitments in the region, some of which serve as a buffer to Iran's "destabilizing behavior," a senior Pentagon official said Friday.
On Tuesday, Carter will meet with Israeli Prime Minister Benjamin Netanyahu, who has lambasted the landmark agreement as a "historic mistake."
Netanyahu has also repeatedly threatened to take military action if necessary to prevent Tehran from obtaining a nuclear weapon.
"The deal won't change radically what we do here at the Defense Department," the US official insisted, dismissing suggestions of increased US military aid to Israel or Saudi Arabia, or new arms deals with them.
"We are committed to maintaining a strong presence, particularly in the Gulf."
Carter's wide-ranging conversations with his counterparts and other officials are expected to also cover military and weapons procurement.
"But frankly, they are the same conversation we would have if there was no deal that had been signed," the official said.
Israel has long opposed any deal with its arch-foe Iran.
The Jewish state is believed to have the Middle East's sole, if undeclared, nuclear arsenal.
"We will be prepared and postured to support the security of our allies, particularly Israel," the US official said.
Carter will hold meetings in Israel on Monday and Tuesday, before traveling to Saudi Arabia and Jordan, though the details of his schedule have not yet been finalized.
In Jordan, he will visit a military base to meet colleagues of a Jordanian pilot who was burned alive by the Islamic State group.
The base, not far from the Syrian border, is used by several countries participating in the US-led anti-IS coalition
His Israel tour had been planned before the Iran nuclear deal was signed, but President Barack Obama announced the visit publicly soon after the agreement was signed Tuesday.
FRANCE 24/ AFP