Hezbollah suffered heavy losses in Zabadani Syria battle, commander killed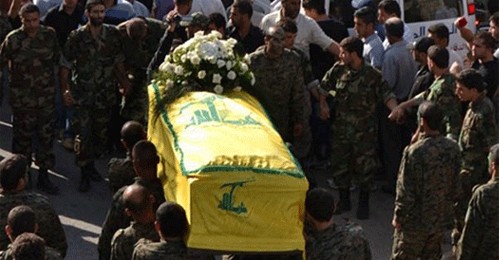 Hezbollah and the Syrian army   suffered heavy losses Friday  in clashes  against the rebel positions inside Zabadani at the southern end of Qalamoun, according to Lebanese security sources
A Hezbollah commander who was recently shifted from Qalamoun to head up the ZabaDani battle was reportedly  killed along with six other  Hezbollah members
The commander was identified   by media as  Ali Dhahi  from the Beqaa town of  Sahmar.
Hezbollah media remained silent about the reports
According to monitors Zabadani was bombarded with heavy artillery and rockets by Hezbollah and the Syrian army , and a Syrian fighter jet carried out two airstrikes on the town's center.
Aircraft dropped barrels rigged with explosives over the area, according to the source.
Hezbollah and the Syrian army  also pounded militant positions in the village of Bloudan, which overlooks Zabadani, after warning the residents to evacuate it, the source said.
Pro-Syrian Opposition media websites claim  that Syrian rebels inside Zabadani have launched the "Revolutionary Volcano" battle as a pre-emptive operation to thwart the attack prepared by the Syrian army and Hezbollah. They claimed that rebels have managed to take over several posts from the Syrian army and Hezbollah, killing and wounding "a big number" of fighters.
The Syrian Opposition fighters also claimed to have seized vehicles and ammunition during battles.
Friday marked the third day of the Zabadani battle which was aimed at  seizing  the last rebel  stronghold along Lebanon's eastern border.
Hezbollah had prepared to wage an all-out offensive on Zabadani by sending large quantities of weapons and ammunition into Lebanon's eastern mountain range earlier this week according to the reports
The decision to launch an offensive came after negotiations with rebels failed to secure the their  withdrawal from the area, which is located 50 kilometers northwest of Damascus and 12 kilometers northeast of Lebanon's Masnaa border crossing.
Zabadani  is of  strategic importance  for Hezbollah because it  has historically served as the logistical hub for supplying Hezbollah with Iranian weapons. It also served as a base for party fighters and the Iranian Revolutionary Guard.
Commenting on the Zabadani battle,  the head of the March 14's  National Council Samir Franjieh told  Voice of Lebanon  (93.3) on Saturday:  "The battle that Hezbollah is waging in Syria aims to delay the fall of the regime."