As value of currency depreciates Syria introduces 1000 pound banknote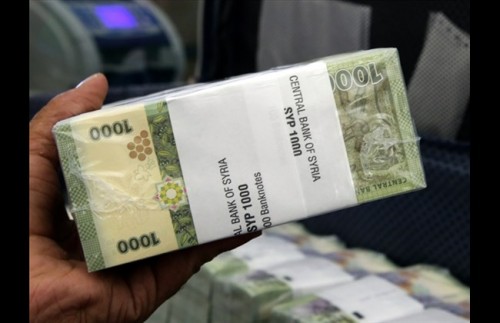 The Central Bank of Syria (CBS) on Tuesday put into circulation new SYP 1,000 banknotes  ,  Syrian Government News Agency  SANA reported
During a press conference held at the CBS's headquarters, Governor Adib Mayyaleh said the bank started issuing new banknotes of SYP 50, 100, 200 and 500 since 2010 " with the aim of improving  the  quality of paper currency in circulation and  help maintain its  integrity ."
He noted that the new banknotes put into circulation today will not affect inflation or currency exchange rates as they replace worn-out banknotes, clarifying that SYP 70 billion worn-out banknotes have been withdrawn, while SYP 10 billion banknotes have been printed.
The new banknotes will be put at ATMs in the provinces of Damascus, Lattakia and Tartous on Wednesday, and successively in all other provinces, the SANA report added
On August 1st, 2014, the CBS put into circulation a new SYP 500 banknote and withdrew by the same number and value the old and worn-out currency from the market to avoid imbalance in exchange rates and inflation.
Mayyaleh  noted that the new banknotes have been printed in Russia and that they are of high quality in terms of the materials used and the technical specifications to prevent counterfeiting.
He  also pointed out that the CBS is studying the market's need for issuing a new SYP 2,000 banknote.
The new SYP 1,000 banknote  does not carry the image of former president Hafez al Assad . It has  the  image of the ancient Roman Theatre at Bosra featured on its front side and the Roman mosaic painting discovered in Sweida on its back side.
The Syrian pound lost more than 75 n% of its value when compared to US dollar since the civil war started in 2011