IATA backs off plan for smaller carry-ons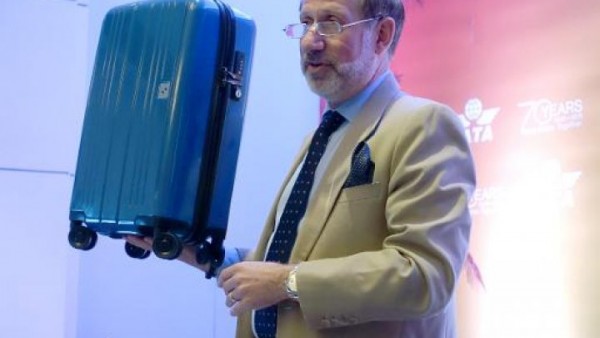 A major airline industry group said Wednesday it is backing off plans to introduce a standard size carry-on bag that would be smaller than some countries currently allow on planes.
The Geneva-based International Air Transport Association (IATA) said in a statement it was "pausing the rollout of its Cabin OK initiative and beginning a comprehensive reassessment in light of concerns expressed, primarily in North America."
The plan was announced at the group's annual meeting in Miami Beach earlier this month, and was subsequently met with outcry from some US lawmakers and a handful of US airlines, including Delta.
"We are concerned IATA called for a change without input from the airlines," Delta said in a statement this week.
"Our focus and investment in the carry-on experience have been on installation of larger bins on domestic and international aircraft, and will continue to be on delivering reliable bag service — checked or carry-on — that Delta customers have come to expect."
IATA's Tom Windmuller told reporters on June 9 that the proposal had been met with enthusiasm from many airlines, because it would end last-minute bickering at the gate over whether passengers' bag would fit on a crowded flight.
The ideal size for a carry-on bag on larger jets with 120 passengers or more was determined — after consultations with Boeing and Airbus — to be 55 centimeters (21 inches) tall, 35 centimeters (13.5 inches) wide and 20 centimeters (7.5 inches) deep.
Many airlines have different size restrictions, and bags that fit this new size would be marked with a label "IATA Cabin OK."
Ever since the announcement, interest has been "intense," IATA said.
"This is clearly an issue that is close to the heart of travelers. We need to get it right," said Windmuller, who is IATA's senior vice president, airport, passenger, cargo and security.
"Today we are pausing the rollout and launching a comprehensive reassessment of the Cabin OK program with plans to further engage program participants, the rest of our members, and other key stakeholders."
IATA said the idea was meant to be a guideline for an ideally sized bag, not an industry standard.
"Cabin OK does not seek to define a maximum size for carry-on bags, which is something each airline does individually. And no consumer will be forced into buying a new bag as a result of this voluntary initiative," the statement said.
FRANCE 24/AFP