U.S. warplanes to give Lebanon's army a fighting chance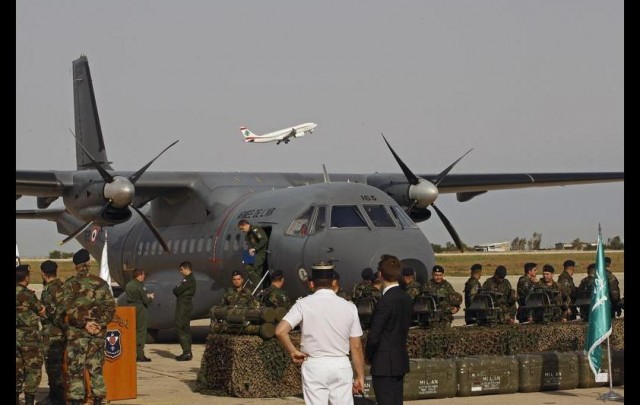 The Pentagon's proposed $462 million sale of six warplanes to Lebanon just got the thumbs up from the U.S. State Department. The A-29 Super Tucanos "will provide Lebanon with a much needed Close Air Support (CAS) platform to meet present and future challenges posed by internal and border security threats," according to a statement posted by the Defense Security Cooperation Agency (DSCA) on Tuesday. There is no doubt as to what is being referred to here: the civil war in neighboring Syria. That festering sore has destabilized the region, and violence has spilled over into Lebanon on numerous occasions.
Last Thursday, the DSCA similarly announced that the U.S. government had approved the sale to Lebanon of 1,000 Lockheed Martin AGM-114 Hellfire II air-to-surface missiles, valued at $146 million. The U.S. had delivered an undisclosed number of Hellfire missiles to the Lebanese army last September, and the additional purchase will allow the country to replenish its stockpile "to meet current and future threats."
Lebanon's army has been in an awkward and weak position as it tries to avoid the Syrian conflict, so as not to exacerbate sectarian tensions at home. By contrast, the country's powerful Iranian-sponsored Shiite militia/terrorist group Hezbollah has been openly fighting for Syrian President Bashar al-Assad. In May, Hezbollah's leader Hassan Nasrallah accused Lebanon's army of being incapable of defending the country's notoriously porous eastern border. Hezbollah then began a large offensive against ISIS and al-Qaeda's Nusra Front in the Qalamoun border area, taking back over 300 square km. Losing face, the Lebanese army was galled into fighting against those same enemies but also to prevent the whole area from falling under Hezbollah's control. The army and Hezbollah now operate with "a certain degree of coordination" although not all-out cooperation, reports the International Business Times. The new warplanes and missiles should help Lebanon's army reassert its control over the border, and increase its leverage vis-à-vis Hezbollah.
Financially, the timing of these purchases is fortuitous for Lebanon. Riad Salameh, the country's Central Bank governor, said on Tuesday that Lebanon might save $1 billion – $1.5 billion this year in its imports of oil due to the fall in prices. (The country's typical oil import bill has been about $6 billion annually.) The civil war in Syria has harmed Lebanon's economy and government finances, in particular coping with the influx of 1.5 million refugees, so the lower import bills due to cheap oil and a weaker euro — Salameh noted that Lebanon's economy is dollarized — come as much-needed relief. It also frees up money that can be spent on defense.
(Lebanon isn't the only one to benefit; the deal is also a plus for Brazil's Embraer, the maker of the Super Tucanos, which is looking to expand its successful export record around the world. The A-29s that will be sent to Lebanon if the deal is finalized will be jointly built by Embraer and U.S.-based Sierra Nevada Corp. in a Florida factory, hence the need for U.S. government approval.)
The sooner the deal gets finalized, the better, because the border threat is not even close to being contained. On Tuesday, ISIS staged the largest cross-border raid into Lebanon in weeks, striking Hezbollah posts; 22 fighters from both sides were killed. This is no imaginary threat to Lebanon's national security.
BLOUIN NEWS