Airbus says three engines froze on crashed A400M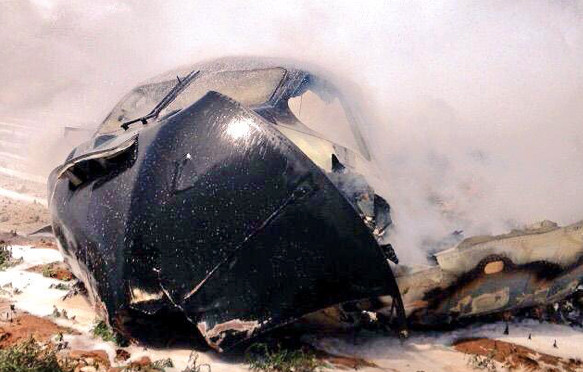 The crew of an A400M military transporter that crashed last month tried in vain to regain control of three engines that froze due to a suspected software problem, according to details of investigations published on Wednesday.
Initial findings on the crash released by Airbus confirmed that the immediate area for concern was the plane's engine control software, on which it recently ordered safety checks.
It did not say what kind of problem may have caused the engines to freeze but it has ruled out a major structural design issue, focusing attention instead on the quality of final A400M assembly work.
A spokeswoman said investigators were looking mainly at "the different processes around the assembly of the aircraft, the engines and the preparations for first flight".
The A400M, designed as a troop and heavy cargo carrier for a group of European NATO nations, crashed shortly after takeoff on a test flight on May 9, killing four out of six crew.
The aircraft was being prepared for delivery to Turkey.
Airbus said 'black box' data and cockpit recordings indicated that three out of four of the plane's turboprop engines became stuck at high power shortly after takeoff.
At first, the three affected engines "did not respond to the crew's attempts to control the power setting in the normal way," Airbus said in a statement.
Pilots succeeded in reducing power only after setting the thrust levers to 'idle,' only to find that the power had frozen once again as they tried to increase it, Airbus added.
Investigators have found that all other systems worked correctly, Airbus said in a bulletin to the plane's operators.
Spain, where the A400M is assembled, halted production test flights following the crash, effectively halting new deliveries.
Airbus Group Chief Executive Tom Enders voiced confidence last week that these could be restored soon if its initial premise on the cause of the accident proved correct.
A senior Airbus executive was quoted shortly afterwards as saying the initial investigations had confirmed the crash was caused by a problem with the configuration of engine software.
Wednesday's statement potentially clears the way for deliveries to resume but investigations into the precise sequence of events are expected to continue for some months.
On May 19, Airbus asked nations that have taken delivery of the A400M – Britain, France, Germany, Turkey and Malaysia – to carry out checks on the 'Electronic Control Unit,' part of the digital system used to control the West's largest turboprop engines. Other buyers include Belgium, Luxembourg and Spain.
REUTERS