Saudi arms grant frozen over Hezbollah remarks on Yemen war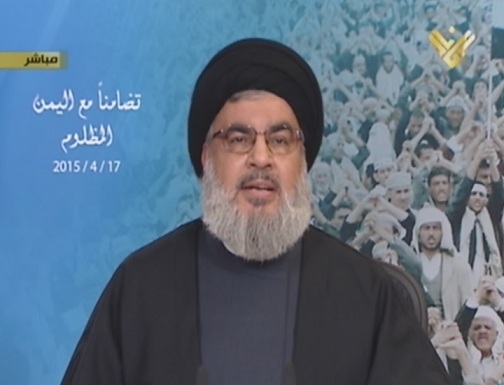 A Saudi grant to the Lebanese army to purchase French weapons is reportedly frozen over stances by  Hezbollah chief Hasan Nasrallah  regarding Riyadh's war against  the Iranian -backed Shiite Houthi rebels in Yemen, according to a report by Naharnet
French diplomatic sources said in comments published in As Safir newspaper Tuesday that France's chief of Staff General Jean-Pierre Bosser expressed belief that Saudi Arabia is delaying the accomplishment of the second delivery of French arms.
The chief of staff reportedly informed Lebanese authorities that Saudi Arabia "could have decided to freeze the grant over stances by Lebanese officials regarding its war on Yemen (in particular, Hezbollah chief Sayyed Hassan Nasrallah)," the sources pointed out.
Saudi Arabia is leading an Arab coalition that launched an air war on the Huthi rebels and their allies in Yemen on March 26.
Nasrallah had slammed Saudi Arabia as the source of the "takfiri ideology" in the world, vowing that it will suffer a "major defeat" in the Yemeni conflict.
The French diplomatic sources expressed pessimism over the deal, hinting that Saudi Arabia froze the grant in an indirect manner.
According to As Safir, Lebanese officials were supposed to schedule a new arms delivery with French counterparts to ship the second batch of arms. However, Army chief General Jean Qahwaji, who visited Paris at the end of May, was surprised that French officials stalled the signing ceremony.
In April, Lebanon received the first shipment of $3 billion worth of French arms under a Saudi-financed deal to boost the country's defensive capabilities to combat terror threats, along its northeastern border in particular.
Lebanese sources told As Safir that the freezing of the deal could also impact another $1 billion grant.
The sources pointed out that the money of the grant hasn't been cashed yet 10 months after Mustaqbal Movement leader Saad Hariri announced it in August.
Lebanon's allies are seeking to bolster the country's defenses against the Islamic State group and other jihadists pressing along its Syrian border.
France is expected to deliver 250 combat and transport vehicles, seven Cougar helicopters, three small Corvette warships and a range of surveillance and communications equipment over four years as part of the $3 billion (2.8 billion-euro) modernization program.
It is being entirely funded by Saudi Arabia, which is keen to see Lebanon's army defend its borders against jihadist groups, particularly the IS group and al-Nusra Front.
The contract also promises seven years of training for the 70,000-strong Lebanese army and 10 years of equipment maintenance.
Since the conflict in neighboring Syria broke out in 2011, Lebanon has faced mounting spill-over threats, first from the millions of refugees pouring across the border and increasingly from jihadists.
Prime Minister Tammam Salam referred the delay in delivering the arms to technical reasons, downplaying the reports, As Safir said.
"We should all realize that it's a five-year deal… Skepticism will not collapse it."
Salam considered also in an interview with the pan-Arab daily Asharq al-Awsat published Tuesday that the arms deal is "advanced."
"It will fortify our state institutions, which will directly affect our unity," the premier added.