Lebanon: Livestock infected by new viral diseases brought by Syrian refugees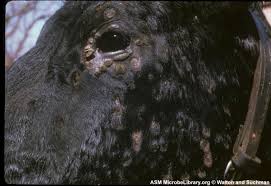 The war in Syria has forced many people to look for safety in Lebanon but there are now concerns about the farm animals the refugees brought with them.
Since the conflict has disrupted the delivery of animal vaccinations in Syria, the risk of trans-boundary animal diseases across the border into Lebanon has increased dramatically.
Lebanon's agriculture ministry says large numbers of animals arrived from Syria without proper health checks and some Lebanese farmers have reported new diseases over the past two years.
The most common disease is foot-and-mouth, which causes ulcers, but a new viral disease causing lumpy skin has also raised concern. The United Nations' Food and Agriculture Organisation says it has already killed several cattle.
It has been estimated that there has been a 60 percent increase in the quantity of livestock in Lebanon near the border with Syria.
There are more than 1.5 million registered Syrian refugees in Lebanon.
Al Jazeera