Iran praises Hezbollah gains on Syria-Lebanon border, update
A senior Iranian official said on Monday Tehran was proud of its key ally Hezbollah for advances it has made against rebels in a Syrian region on the Lebanese border.
Ali Akbar Velayati, foreign affairs adviser to supreme leader Ayatollah Ali Khamenei, in a trip to Beirut praised the "victories" by the Shiite Hezbollah movement.
"We are filled with pride and appreciation when we see that in recent days, the valiant Lebanese resistance (Hezbollah) has achieved great progress and excellent victories alongside the brave Syrian army," he said after meeting Lebanon's parliamentary speaker.
"We believe this will strengthen the axis of resistance, not just in Syria and Lebanon, but in the whole region," he added.
"We hope, with God's will, to see the day when some regional powers will stop supporting and harbouring these evil, unjust forces, whether in Syria or Lebanon, and to stop providing a haven for them –- so that we can return harmony, security and stability to all of Syria and Lebanon."
Hezbollah, which is heavily backed by Iran, has been fighting to secure the Qalamun region that straddles the Syria-Lebanon border.
The region was largely recaptured by Syrian regime forces last year, but some rebels and jihadists remain in the mountainous area along the frontier and have launched attacks into Lebanon.
Both Iran and Hezbollah are strong allies of Syria's President Bashar al-Assad and have backed his regime throughout the uprising that began in March 2011.
Update: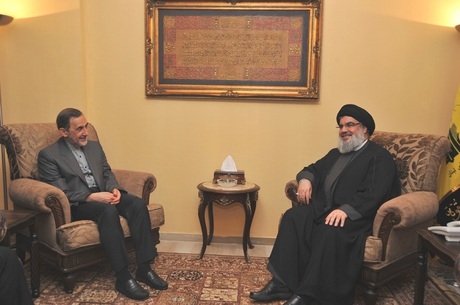 Hezbollah chief  Hassan Nasrallah  met with Velayati  and at undisclosed location where they reportedly discussed  the latest security and political developments, according to a  Hezbollah statement  on Tuesday. The statement did not  also reveal the date and time of the meeting.
The Hezbollah  statement said Nasrallah and the Iranian official "discussed the situation in the region and the latest political and security developments, and ways to confront them."
The meeting was attended by the delegation accompanying Velayati and Iran's Ambassador Mohammed Fathali, it added.
Velayati  trip to Beirut came two days after Nasrallah said jihadists from al-Nusra Front and the Islamic State group have been pushed out of large areas of Syria's Qalamoun region.
Yahoo/AFP/YL