Siniora rules out any chances for Aoun to reach presidency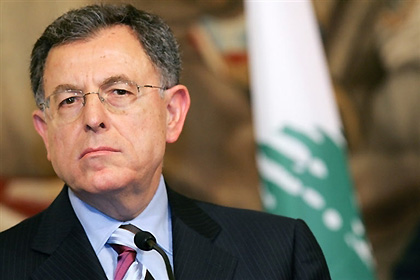 Former Lebanese prime Minister and Future Movement parliamentary bloc leader MP Fouad Siniora stressed on Saturday that Free Patriotic Movement chief MP Michel Aoun has no chance of ever reaching the presidential palace in Baabda.
"The hijacked presidency is ruining the country's reputation," Siniora's visitors quoted him as saying in comments published in As Safir newspaper.
He pointed out that the presidential vacuum is worsening the situation in the country.
"We are definitely seeking the election of a strong president, who has leadership skills and could unite the Lebanese and not increase the gap between them," Siniora reportedly said.
Siniora accused Hezbollah of obstructing the presidential elections by its insistence ton Aoun's candidacy .
"It is clear that Aoun has no chance of reaching the presidency… he has been informed… if he still has hope then it's his problem," Siniora pointed out.
Asked about an alleged deal that guarantees the appointment of Aoun's son-in-law Commando Regiment chief Brig. Gen. Chamel Roukoz as army chief on the condition of his withdrawal from the presidential run, Siniora said: "There's no such deal… we could reach a settlement but we will not back down."
Roukoz's tenure ends in October while the term of army commander Gen. Jean Qahwaji expires at the end of September.
Despite the reports about his insistence to have his son-in-law as army chief, Aoun denied that he had made such a proposal.
On Wednesday the Lebanese parliament failed for the 22nd time in a row to elect a president to replace Michel Suleiman whose term ended on May 25.
As in the past sessions the parliament was unable to reach a quorum because the Iranian-backed Hezbollah militant group and its ally Aoun's Change and Reform bloc MPs boycotted the sessions.
Ruled out as a consensus candidate
"Aoun has lost his merit to be a consensus candidate for the presidency,"MP Atif Majdalani a key member of the Future Movement was quoted as saying last Novemeber.
"As soon as Hezbollah chief [ Hasan Nasrallah] named Gen. Aoun as the March 8 candidate for the presidency, Aoun was no longer a consensus candidate but a provocative one."During several rounds of talks held between senior Future and FPM officials in the past months, including meetings with ( former PM Saad ) Hariri in France, Aoun sought to promote himself as a consensus or compromise candidate for the country's top Christian post, arguing that he heads the largest Christian bloc in Parliament.
"From the very beginning, Hariri told Aoun: 'If you are presenting yourself as a consensus candidate for the presidency, you have to get approval for this from the Christian side in the March 14 coalition in order for us to support you,'" Majdalani was quoted as saying