Obama urged to act as global slaughter of Christians escalates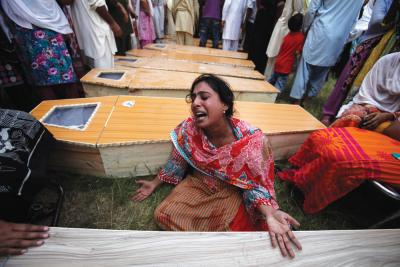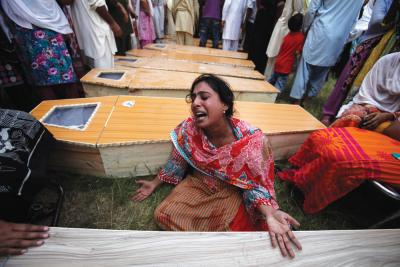 Activists and elected officials are urging President Obama to stop slow-walking his response to the slaughter of Christians throughout the Middle East.
More than 50 organizations, scholars, religious leaders and human rights advocates, along with 43 members of Congress, called on Obama Monday to fill the vacant post of special envoy for religious minorities in the Middle East and South Central Asia, which has stood vacant since it was created.
The Islamic State this weekend circulated a video purporting to show the execution-style mass murders of Ethiopian Christians by Islamic terrorists in Libya. In February, the group killed 21 Coptic Christians on a beach in Libya and have been slaughtering Christians, Yezidis and other religious minorities systematically in Iraq since last summer.
"The breadth of support for the legislation underscores the urgency of the perils facing these communities," the group of 50 religious leaders and human rights activists wrote in their letter to Obama. "In the seven months since the legislation became law, discrimination, repression and outright violence against religious minorities has only escalated."
"We respectfully request that you swiftly fill the position," they continued. "Doing so would signal to beleaguered communities in the Middle East, and beyond, that America stands by them."
On Easter, Pope Francis expressed deep concern that the international community is standing "mute and inert in the face of such unacceptable crimes." At a Good Friday procession, he also decried the world's "complicit silence" while Christians are being killed in an international jihad that spans the Middle East, Africa, the Arabian Peninsula, Europe and the United States.
Congress passed a bipartisan bill late last summer creating the envoy post, and the president signed it into law but has yet to appoint the special envoy.
White House spokeswoman Bernadette Meehan Sunday night issued a statement condemning the "brutal mass murder" of Ethiopian Christians in the Islamic State video.
She expressed condolences to the families of the victims and support to the Ethiopian government "as they grieve for their fellow citizens."
"That these terrorists killed these men solely because of their faith lays bare the terrorists' vicious, senseless brutality," Meehan said. "This atrocity once again underscores the urgent need for a political resolution to the conflict in Libya to empower a unified Libyan rejection of terrorist groups."
Asked Monday about the president's delay in naming the Special Envoy for Religious Minorities in the Middle East South Central Asia, Meehan said, "We don't have any personnel announcements to make at this time."
The envoy, who would report to Secretary of State John Kerry, would represent the United States and amplify the importance of religious freedom for imperiled religious minorities in the Middle East and South Central Asia. The envoy's duties would include promoting religious freedom, monitoring religious intolerance and denouncing rights violations.
A bipartisan group of lawmakers on Capitol Hill who sponsored the legislation last week sent a similar letter to Obama signed by 43 of their congressional colleagues, urging the president to fill the post.
Those members spearheading the congressional effort include: Reps. Anna Eshoo, D-Calif.; Randy Forbes, R-Va.; Juan Vargas, D-Calif.; and Jeff Fortenberry, R-Calif.; as well as Sens. Roy Blunt, R-Mo., and Debbie Stabenow. D-Mich.
Former Rep. Frank Wolf, R-Va, after leaving office last year founded the 21st Century Wilberforce Initiative, a nonprofit human rights group that is spearheading the effort to send Monday's letter.
Wolf argues that having a senior State Department diplomat focused exclusively on protecting and preserving these ancient faith communities is long overdue.
"The crisis facing Christians and other vulnerable religious minorities in countries like Iraq, Syria, Egypt and Iran cannot be overstated," he said. "It is time for the president to follow through on his signature. There is no good reason not to appoint a special envoy."
Wolf, along with Randel Everett, the president of the 21st Century Wilberforce Initiative, and several other members of their organization, traveled to Iraq earlier this year and met with Christian and Yezidi communities targeted by the Islamic State.
Iraq's Christian population, which was estimated at a million and a half under Saddam Hussein's Baath dictatorship, has dropped to fewer than 400,000, according to reports. Syria's Christians are also endangered by a civil war that threatens to remove the protection afforded by Baath dictator Bashar al-Assad and leave Christians at the mercy of the pan-Sunni rising that has fractured the 21st-century middle east.
"They repeatedly told us they felt abandoned by the West — both policymaker and faith leaders," Everett said. "The simple act of filling this post would send a clear signal that the United States recognizes the gravity of the situation."
Other groups signing the letter include: Advocates International, Ahmadiyya Muslim Community USA, American Center for Law and Justice, American Ezidi Center, American Humanist Association, Americans for Democracy and Human Rights in Bahrain, Chaldean American Chamber of Commerce, Committee on International Justice and Peace — U.S. Conference of Catholic Bishops, National Association of Evangelicals, Open Doors USA, United Methodist Church — General Board of Church and Society and the Universal Muslim Association of America.
Individuals signing the letter include: Mustafa Akhwand, executive director of Shia Rights Watch; Thomas Farr, director of the Religious Freedom Project at the Georgetown University's Berkley Center; Robert George, McCormick Professor of Jurisprudence at Princeton University; Joseph T. Kassab, founder and president of Iraqi Christians Advocacy and Empowerment Institute; Rev. Dr. Samuel Rodriguez, president of the Hispanic Evangelical Association; Nina Shea, director of the Hudson Institute's Center for Religious Freedom and Anthony Vance, director of public affairs for the Baha'is of the United States.