Iraq's Hezbollah hands over suspected body of top Saddam aide
The body of a man believed to be Ezzat al-Douri, top aide to Iraq's executed president Saddam Hussein, was handed over to the Iraqi government by a Shi'ite militia on Monday, live video from the scene showed.
A casket with transparent panels containing the remains of a man with red hair like Douri's was transferred from a van into a government vehicle in scenes broadcast on state TV, which said the remains would be taken to the Health Ministry.
An Iraqi provincial governor reported last week that Douri had been killed in fighting. The Shi'ite militia Kataib Hezbollah on Sunday said it was holding the body and had conducted DNA tests that proved it was Douri's.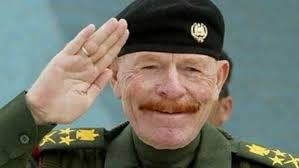 After the 2003 U.S.-led invasion of Iraq, Douri was ranked sixth on the U.S. military's list of 55 most wanted Iraqis and a $10 million reward was offered for his capture. Iraqi and U.S. officials accused him of organizing and leading the insurgency that swept the country in 2005-07.
Baghdad has mistakenly announced Douri's death more than once before, but this time photographs are circulating of a man that bears some resemblance to him.
An exiled spokesman for Saddam's outlawed Baath Party, of which Douri later became head, denied he had been killed, although he offered no evidence the insurgent leader was still alive.
Reuters