Islamic State seizes village in Iraq's Anbar province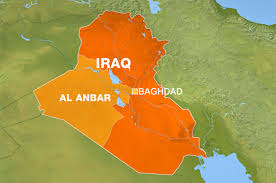 Islamic State militants gained ground in western Iraq on Wednesday, overrunning another village near the capital of Anbar province in a dawn raid, police sources and local officials said.
Hundreds of families were fleeing Albu Ghanim after security forces came under attack from the militants overnight and withdrew from the area, around 5 km (3 miles) northeast of the provincial capital Ramadi.
The militants have been making inroads on Ramadi's northern periphery since the government announced the start of a new offensive last week to recapture the Sunni heartland of Anbar.
Large parts of the province had slipped from the government's grasp even before Islamic State seized the northern city of Mosul last June and proclaimed a caliphate straddling the border between Iraq and Syria.
Security forces and Shi'ite paramilitaries have since regained some ground in Iraq, although core Sunni territories remain under Islamic State control, including Nineveh province, of which Mosul is capital, and most of Anbar.
The new Anbar campaign was intended to build on a victory in the city of Tikrit, which Iraqi security forces and Shi'ite paramilitaries retook this month.
But the Sunni jihadists have struck back in Anbar as well as Baiji, where they blasted through the security perimeter around Iraq's largest refinery several days ago.
The operations command for Salahuddin province in which Baiji is located said skirmishes between security forces and the militants continued on Wednesday inside the refinery compound.
Reuters