Iran to offer a Yemen peace plan as Houthis suffer battlefield setbacks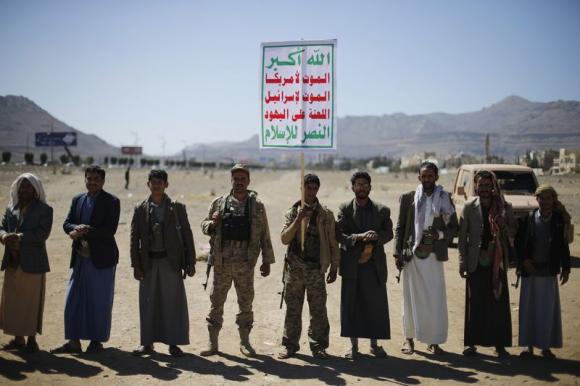 Iran proposed a peace plan for Yemen on Tuesday and called for an end to Saudi-led air strikes against Houthi rebels allied to Tehran, but the move was likely to draw a cool response from Riyadh.
On the battlefront, militiamen loyal to deposed President President Abd-Rabbu Mansour Hadi said they had pushed back Houthi fighters at several points in southern Yemen, including districts of the port city of Aden, the focal point of a conflict that entered its most dangerous phase three weeks ago.
After prolonged street fighting, Houthi fighters withdrew from Aden's Khor Maksar district, where the international airport and foreign missions are located.
The pull-out deprives the Houthis of a bridge to downtown areas where they face heavy resistance from local fighters.
Saudi Arabia and its Sunni Arab allies have been bombing the Houthis since March 25 to drive them from Aden, the most important city still loyal to Hadi.
The Houthis, northern-based Shi'ite Moslems, seized control of Yemen's capital Sanaa in September, confining Hadi to the presidential residence. He fled to Aden in February then escaped to Riyadh last month as Houthi forces closed in on the city.
The conflict, though rooted in local rivalries, has become a proxy battlefield for regional powers Sunni-ruled Saudi and mainly Shi'ite Iran. Saudi Arabia and other powers accuseIran of arming the Houthis and interfering in Yemeni affairs. Tehran denies giving military support to the Houthis.
Iranian Foreign Minister Mohammad Javad Zarif, speaking in Madrid on Tuesday, put forward a peace proposal involving a ceasefire, humanitarian assistance, a dialogue between Yemeni factions, and a broad-based government.
"This issue should be resolved by the Yemenis. Iran and Saudi Arabia need to talk but we cannot talk to determine the future of Yemen," he told a news conference.
Zarif also said the air strikes "are simply not the answer. All operations should end on land and from the air".
On Monday, Zarif had called for a new government in Yemen and offered to assist in a political transition.
The offer was unlikely to please Riyadh, which says it is protecting Hadi and his government-in-exile from the Houthis.
But as the world' largest oil exporter, Saudi Arabia is also unhappy at the prospect of protracted upheaval in its southern neighbor.
Hadi and his Saudi backers also face fierce opposition from soldiers loyal to former Yemeni president Ali Abdullah Saleh, who has teamed up with his old foes the Houthis.
Al Qaeda, which has staged suicide bombings against the Houthis, also poses a threat to Yemen's stability. The United States has poured aid and personnel into the country in recent years as part of its war on Islamist militants, but its military teams evacuated last month.
Nearby shipping lanes and the narrow Bab el-Mandeb passage, through which nearly 4 million barrels of oil are shipped daily to Europe, the United States and Asia, could also be at risk from the fighting.
SOUTHERN FIGHTS
Southern militia sources said they wrested control of an army base loyal to the Houthis after heavy fighting on Monday night near the Balhaf liquefied natural gas (LNG) plant, in southern Shabwa province on the Arabian Sea.
Yemen LNG, the company managing the facility, said it had halted production due to insecurity and was evacuating staff. Militia sources said they had moved into the port to secure it from looting.
Militiamen said their fighters had killed around 40 Houthis and allied soldiers in the southern province of Dhalea over the past day, although this could not be independently confirmed.
In the southern town of Houta in Lahej province, fighters said they attacked a Houthi tank with rocket-propelled grenades and machineguns on Monday night, killing about 15 rebels.
Weeks of street battles have left parts of once thriving Aden in ruins and led to shortages of water, food and electricity. But armed townspeople say they have laid siege to pockets of Houthi and army fighters loyal to Saleh, forcing them to surrender in the dozens after running out of supplies.
Mosque loudspeakers blared appeals for fighters to surrender.
"We won't rest until we've ejected them from all our areas and neighborhoods," one fighter in Khor Maksar told Reuters.
A cargo plane chartered by Medecins Sans Frontieres (Doctors Without Borders) landed in Sanaa on Monday with 15 tons of medical supplies.
The MSF head of mission in Aden, Marie-Elisabeth Ingres, said the supplies should allow the organization to help out other parts of the country but supply routes needed to be kept open and fighting was hampering its work.
It is trying to establish a supply route by sea from Djibouti directly to Aden, she said in a statement.
The U.N. Security Council is due to vote on Tuesday on a resolution to blacklist Saleh's son Ahmed, the former head of Yemen's Republican Guard, and a Houthi leader and effectively impose an arms embargo on the rebels, diplomats said.
Reuters