ICC: Prospects for prosecuting IS leadership for war crimes appear limited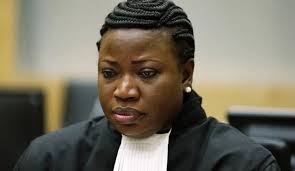 The prosecutor of the International Criminal Court (ICC) said there was evidence of war crimes by Islamic State in Iraq and Syria, but little prospect yet that its leaders would be investigated by the ICC.
In a statement on Wednesday, prosecutor Fatou Bensouda said she had jurisdiction over crimes committed by fighters who are nationals of ICC member states, but Islamic State's leaders appeared mainly to be from Iraq and Syria, which are not.
"At this stage, the prospects of my office investigating and prosecuting those most responsible, within the leadership of ISIS, appear limited," she said.
The court could exercise "personal jurisdiction" over individuals who were citizens of member states, she added. Wider jurisdiction could also be referred to The Hague by the U.N. Security Council.
Many citizens of ICC member states are suspected of committed atrocities while fighting for Islamic State, including "Jihadi John", notorious for beheading hostages, who is believed to be a British citizen.
Bensouda said the court had received reports of thousands of foreign fighters joining Islamic State, many from ICC member states, including Tunisia, Jordan, France, the United Kingdom, Germany, Belgium, the Netherlands and Australia.
The reports of crimes sent to the court ranged from mass executions, sexual slavery, rape, torture, forced recruitment of children and even genocide, she said.
"Some of these individuals (from member states) may have been involved in the commission of crimes against humanity and war crimes," she said.
Reuters