Geagea: No 'presidential' election anytime soon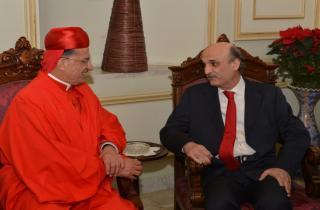 Beirut, Lebanon- Lebanese Forces leader Samir Geagea said on Friday after holding talks with Maronite Patriarch Beshara al-Rahi at Bkirki that he does not expect the presidential elections will be held anytime soon.
"I don't believe that the elections will be held anytime soon," Geagea told reporters
He urged the political powers to change their stances and head to the polls
Commenting on the Iranian nuclear deal and its effect on Lebanon he said the election of a new president lies in the hands of lawmakers, not regional powers, noting that the breakthrough in reaching an agreement over Iran's nuclear program may positively affect stressing that only the Lebanese can bring about positive developments .
Commenting on Free Patriotic Movement leader MP Michel Aoun's chances of becoming the next president he said
"In principle, there is nothing stopping Free Patriotic Movement leader MP Michel Aoun from becoming president, but we have to take into consideration his political platform."
"The other camp has unfortunately maintained its political positions," continued the LF leader.
Addressing the LF dialogue with the FPM, Geagea stated: "Our talks are tackling various issues."
"We have disagreed on certain affairs, but we are trying to resolve them. We have however reached an agreement on others," he revealed.
"We are working on the basis that a meeting with Aoun will take place at some point," he remarked.
Geagea's comments came after Lebanon Speaker Nabih Berri hailed the negotiations between Iran and world powers on its nuclear program as "the biggest political and diplomatic marathon in history," hoping that Lebanon would benefit from them.
"The agreement is an important step and would help resolve crises in the region," Berri told his visitors, according to al-Joumhouria newspaper published on Friday.
"Lebanon hopes that there would be more interest in resolving its crisis which … is less complicated than the rest of the crises" in the region, Berri said.
The Lebanese parliament failed Thursday and for the 21st time in a row to elect a president to replace Michel Suleiman whose six-year term ended on May 25th last year.
As in the past sessions the parliament was unable to reach a quorum because the Iranian backed Hezbollah militant group and its ally Aoun's Change and Reform bloc MPs boycotted the sessions.