Houthis say Saudi Arabia trying to split them from ex-president
Saudi Arabia is trying to drive a wedge between its Houthi foes and their main ally, powerful ex-president Ali Abdullah Saleh, as part of its military campaign against the Shi'ite group which controls much of Yemen, a Houthi official said on Wednesday.
The Iran-allied Houthi militia has weathered seven days of Saudi-led air strikes and continued to advance on several fronts, with vital support from army units loyal to Saleh.
Houthi politburo member Mohammed al-Bukhaiti said Saudi Arabia ultimately seeks to split their alliance and incite Saleh to turn on the Houthis – warning they would "end" the veteran autocrat if he tried to do so.
"They supported Ali Saleh for 35 years – for now he's rejected fighting us. But he's not doing it out of love for us, but fear," Bukhaiti told Reuters by telephone from Sanaa.
Saleh seized power in a 1978 coup and ruled for three decades through a combination of force and guile over Yemen's kaleidescope of armed tribal, separatist and militant groups. He fought the Houthis for nine years from 2002-2009, before resigning after Arab Spring street protests against him in 2011.
Analysts say he has backed the Houthis for months, helping to stop any serious army resistance when they seized the capital Sanaa in September and using his party's continued dominance in parliament to weaken his successor Abd-Rabbu Mansour Hadi.
They believe his ultimate aim is to help the Houthis defeat their common enemies, and then use his extensive political base to build a role as powerbroker before turning on the rebel group and installing his son Ahmed Ali Saleh as president.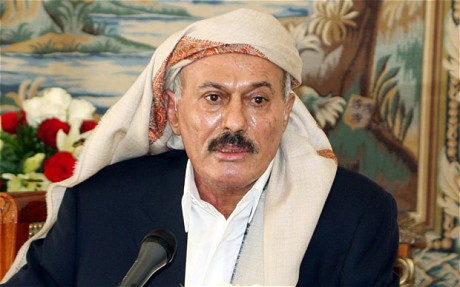 Saleh has called for an end to the Saudi bombardment, pledging in return that neither he nor any member of his family would seek the presidency. But his appeals to Riyadh have, in public at least, fallen on deaf ears.
"Now he's in a critical position," Bukhaiti said. "They're asking him to fight us and to work against us, but if he makes any move against us, he'll end," he said. The Houthis have already fought other top military and tribal figures and forced those leaders to flee into exile.
He did not say how Saudi Arabia had tried to turn Saleh against the Houthis.
Hadi is sitting out the fighting in the Saudi capital Riyadh while his loyalists – a mix of Sunni Muslim tribes and armed separatists from his heartland in Yemen's formerly independent south – battle the Houthis.
The Houthi advance has been undeterred by the campaign of air strikes by Saudi Arabiabacked up by nine other countries, leading the Houthis to believe a ground push is coming.
"We expect there to be a ground invasion of Yemen, especially after the collaborators with the coalition fell in so many of their positions. They can't secure Hadi's legitimacy except by putting their foot down," Bukhaiti said.
United Nations-backed talks among Yemen's parties on the country's political transition have paused since the bombing began, Bukhaiti said, and no new initiative has been made for their resumption.
He said the Houthis were open to talks resuming as long as Hadi does not participate or return as president – a condition which is at odds with Riyadh's stated war aim.
"If there were sincere intentions among all the political forces, we would be able to come to an agreement to appoint a consensus president and a power-sharing government," Bukhaiti said.
"Hadi's presence as a side in the dialogue is rejected, because he is an item in the talks now, not a side. Some sides are calling for his return, but we reject this."
Reuters