Syrians flee Idlib, fearing government reprisals after its defeat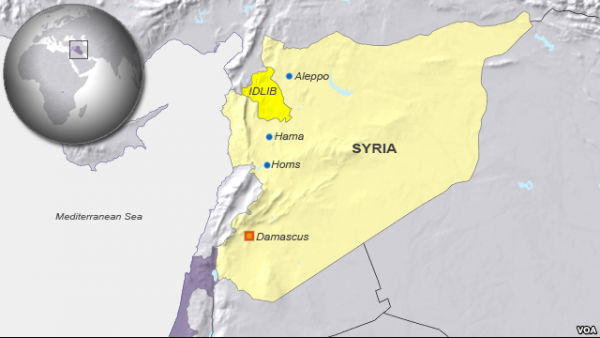 Syrians fled Idlib Sunday, fearing government reprisals a day after opposition fighters and a powerful local al-Qaida affiliate captured the northwestern town, activists said.
Idlib, with a population of around 165,000 people, is the second provincial capital to fall to the opposition after Raqqa, which is now a stronghold of the Islamic State group. Its capture by several factions led by the al-Qaida-linked Nusra Front underscores the growing power of extremist groups in Syria, who now control about half the country.
The Nusra Front and Syrian rebels have controlled the countryside and towns across Idlib province since 2012, but Assad's forces had maintained their grip on Idlib city, near the border with Turkey, throughout the conflict.
Now that the city is in the hands of rebels, who stormed government buildings and tore down posters of Assad, many residents fear that troops will retaliate harshly.
Muayad Zurayk, an activist based in Idlib province, said via Skype that "residents are fleeing the city to nearby villages and towns." He added that the situation was relatively quiet in the city Sunday despite some government shelling.
Rami Abdurrahman, who heads the Britain-based Syrian Observatory for Human Rights, confirmed some people were fleeing the city.
Also in Idlib, activists said members of a Syrian security agency killed more than a dozen detainees before withdrawing from a detention center in the city. The activists said the killings were conducted shortly before rebels took the so-called security compound in Idlib on Saturday.
The Idlib Media Center showed a video of what it said were at least 12 bloodied bodies inside a room at the Military Intelligence Directorate.
The Observatory said 15 men were found shot dead inside the compound. The group said 53 other detainees, including two women, were freed by the rebels in the compound.
More than 220,000 people have been killed in Syria's conflict, which began with an Arab Spring uprising in March 2011 and turned into an insurgency following a brutal military crackdown.
Associated Press /ABC