Q&A: Plans for an Arab joint intervention force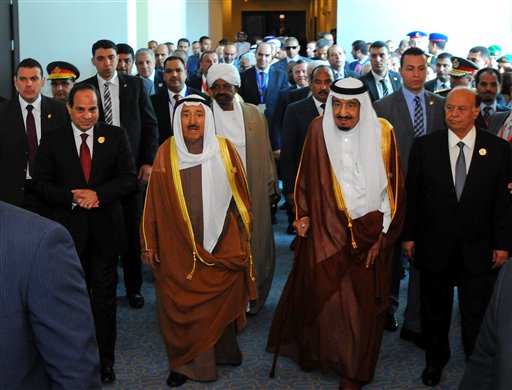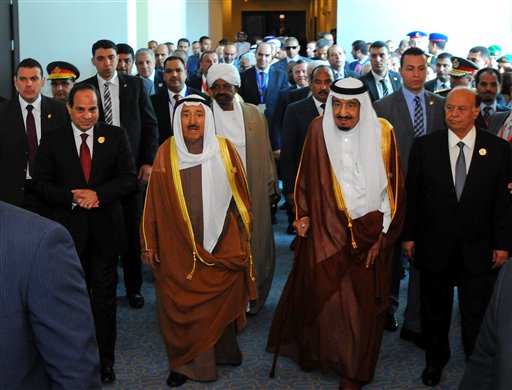 Arab League member nations formally announced on Sunday an agreement to form a joint military force. While details of how such a force would actually operate remain thin, the agreement is a telling sign of a new determination among Saudi Arabia, Egypt and their allies to intervene aggressively in regional hotspots, whether against Islamic militants or Iran-backed groups.
—
HOW WILL THE JOINT FORCE WORK?
Senior officials from participating counties have been dispatched to collectively examine the issue, and a full proposal is to be presented to the Arab League's Joint Defense Council within four months. Egyptian President Abdel Fattah el-Sissi, has described the force as an absolute necessity. Egyptian military and security officials have said the proposed force would be made of up to 40,000 elite troops and will be headquartered in either Cairo or Riyadh, the Saudi capital. The force would be backed by jet-fighters, warships and light armor.
—
WHO WILL LEAD IT?
Saudi Arabia, as the region's economic powerhouse, will likely take a leadership role. Egypt, which boasts the Arab world's largest standing army but is heavily dependent on financial aid from Saudi Arabia and other Gulf nations, will also be a major player.
—
IS THERE ANY PRECEDENT FOR THIS?
Creation of such a force has been a longtime goal that has eluded Arab nations in the 65 years since they signed a rarely used joint defense pact. Gulf nations, under the umbrella of the Gulf Cooperation Council, joined forces to help Bahrain's Sunni monarchy quash Arab Spring protests in 2011 by its Shiite majority.
—
WILL THE JOINT FORCE BE DEPLOYED IN YEMEN?
All indications from participants in the just-concluded Arab League summit in the Egyptian resort town of Sharm el-Sheikh are that the force could take months to truly come together. That is most likely too long for it to play a meaningful role in the current Yemeni crisis. However the current Saudi-led coalition that is conducting airstrikes against Shiite rebels in Yemen could serve as a template for what the force will eventually become.
—
WILL THE FORCE REPRESENT ALL 22 ARAB LEAGUE NATIONS?
Unlikely, since already there are indications in Sharm el-Sheikh that joining the force will be optional. The force, as currently envisioned, would reflect the interests of Sunni nations like Saudi Arabia and Egypt. In addition to potentially combatting radical Sunni forces like al-Qaida and the Islamic State group, it may also be deployed to counter the ambitions of Shiite regional powerhouse Iran. Arab countries like Syria , Iraq and Lebanon , where Iran and its proxies , such as Hezbollah wield significant influence over the government, are unlikely to join the force.
Associated Press/My Way